The Ultimate Chicken Noodle Soup
Ingredients
Directions
~ Marla Meridith
The Ultimate Chicken Noodle Soup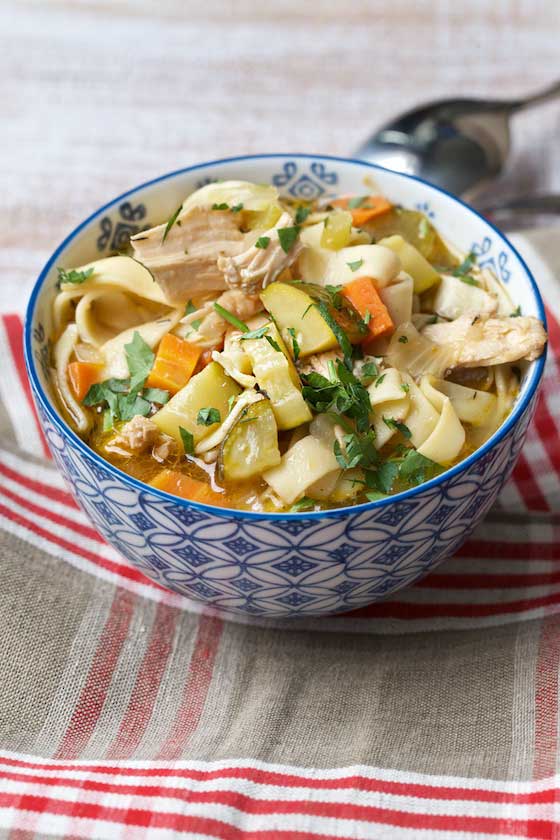 Nothing says winter more than a comforting bowl of delicious chicken noodle soup. This recipe will become your go-to favorite as soon as you try it!
6 servings
2 tbsp extra-virgin olive oil + another splash
1 medium onion, chopped
3 garlic cloves, minced
2 zucchini, cute into 1/2 inch cubes
2 medium carrots, cut into thin rounds
2 celery ribs, cut into 1/4-inch-thick slices
2 quarts low sodium chicken broth
1 tbsp freshly squeezed lemon juice
1 tbsp dried thyme or leaves from 4 fresh thyme sprigs
8 oz dried egg noodles (use the shape you like the best)
1 1/2 cups shredded roasted chicken
Kosher salt and freshly ground black pepper to taste
1 handful fresh flat-leaf parsley, finely chopped
Roast the chicken with this recipe: https://newmm2019.wpengine.com/perfect-roast-chicken/
Heat the olive oil in a large soup pot over medium heat. Add the onion and garlic, cook for a few minutes until fragrant and translucent. Add another splash of olive oil, the zucchini, carrots and celery. Cook for another 5 minutes, stirring throughout. Once the veggies have softened a bit stir in the broth, lemon juice and thyme. Raise the heat to medium high and bring to a boil. Add the pasta and cook until it's soft. Add the chicken (*see notes) and continue to cook until it's warmed through. Season with salt & pepper to taste. Sprinkle with the parsley before serving.
When shredding the roasted chicken allow some of the skin into the mix, this will add so much extra flavor to your soup!
~ Marla Meridith