Can you believe it?  Christmas 2009 is here.
After loads of preparation for holiday feasts and celebrations we can now kick back and reflect on 2009.  It has been a wonderful year.  There is loads to be grateful for.  I'll let you in on a few things on my gratitude list this holiday season:
XO.
Our Health.
My wonderful family.
My sincere, fabulous friends.
The constant opportunity to listen and learn from others.
The honor of being a mom, in the good and trying times.
The ability to live a life full of awareness and mindful behaviors.
The access to inspire and teach others through a clean, healthy, yummy lifestyle.
LOVE
PEACE
TRUST
And then there was CAKE!!!
What is Miss. Marla's all time favorite cheat food?  You should all know by now that it is LAYER CAKE.  I don't have it often, but oh boy when I do it better be fresh, homemade, fabulous, crumbly, all butter layer cake with frosting.  This was not just your ordinary cake. Back in October I was asked by a very special friend (with excellent taste) to craft her holiday cake for a very elegant party.  A few things you need to know: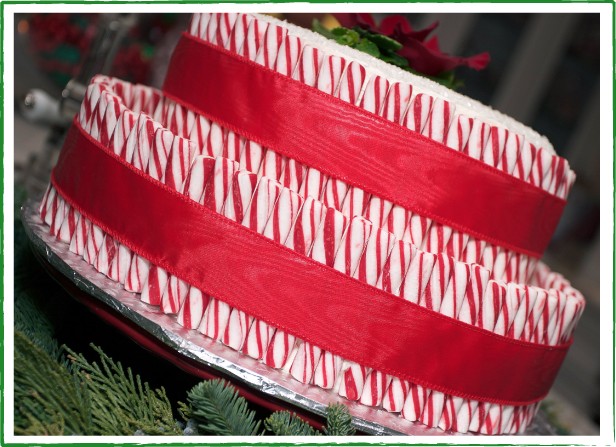 I was very flattered.

Last year I surprised her by making the cover cake from

Bon Appetit

.  A Devils Food Layer Cake with Peppermint Frosting.  It was a challenge.  I had just finished a series of baking classes at my favorite

Blackmarket Bakery

in the OC.  I was feeling very ambitious and I had the guts to go for it.

Since that cake was a success, she asked me to make the cake for the 2009 Christmas party.

It was to be served to 20 very discerning guests, true foodies with great taste.  A huge task, yes, but I was up for the challenge.

Did I have a slice……you betcha.  Thankfully we had dessert right after a fabulous meal, so it was easy to stick to one piece!
Since Devils Food with Peppermint worked last year, I went with it again this year.
A flavor twist on this cake was the addition of finely crushed candy canes in the center layer of Italian Meringue Buttercream.  They added such great texture and a bit of a surprise.  I have to give credit to my husband for coming up with this genius idea.
A slice of pure chocolatey peppermint yum!

Family Fresh Scharffen Berger Giveaway
So I bet you are all wondering who takes home the prizes from my Scharffen Berger giveaway???  The winners were chosen at random. Drumroll please…….
Congratulations to:
Averie from Love Veggies and Yoga
Faith from Thought 4 Food
Michelle from One Ordinary Day
Check out their blogs!  Each person has a unique twist on the foodie world.
I have more goddies to giveaway soon, more SB chocolate and other yummies coming your way.  Keep stopping by FFC to read clean, healthy, yummy recipe posts and join in on the giveaway fun!
Friends of FFC: Foodie Blogger Happenings
Great big hugs and loads of gratitude
to my wonderful Family Fresh Friends!
Happy Holidays to you all!!!
~ Marla Meridith