Pumpkin Pie Tart with Almond Crust
Consider this the Modern Pumpkin Pie in tart form. Hip in every way. It fully utilizes amazing, revolutionary, gluten free blanched almond flour, my favorite sweetener stevia and of course pumpkin. It has the taste thrills of holiday comfort food pumpkin pie but gobs of great for you ingredients. Thumbs up and big applause please……
To celebrate my reinvention of this all American classic I invite you to bask in the glory of my friend Lucy Lean's brand new book Made in America. Cook, bake and party with us!

As you know I get really excited when my friends write and photograph really great books. I will call them modern taste makers. Have you ever heard of my pal Lucy Lean? A few things you need to know about her: a MasterChef food judge, former editor for Edible LA magazine, publisher of the amazing blog Ladles and Jellyspoons. She is also witty, charming and very sophisticated. I Love Lucy.
We first spent time together last winter at Food Blogger Camp in Mexico. We hit it off immediately and now I chat with her frequently. Sometimes I even end up at her home for intimate gatherings of good friends.
I bring large wheels of fancy cheese to garden parties…more on that later.
That's Lucy. The pretty lady at the head of the table toasting to life. She has a passion for living, fueled by her beautiful family and great food. That is why she wrote the book on reinventing comfort food. It's all coming together now, yes? To celebrate today's launch of Made in America a group of us foodie bloggers are partaking in a virtual dinner party. Each guest is sharing their interpretation of comfort food.
One of the chef's featured in the book is Michael Voltaggio. He cooks up a Modern Mock Turtle Soup. I went a little Mock too.
In the cookbook Lucy has over 100 of America's most well known chefs re-create classic recipes. For this dinner party I chose to reinvent my favorite dessert.
In the next few months you have to realize that when you visit MarlaMeridith.com you will be visiting The Pumpkin Blog. Now that we have that straight lets dig in.
Traditionally this fall pie is served as dessert for Thanksgiving feasts. Generally it has a plentiful amount of sugar and a buttery, refined white flour crust. Until now. Those ingredients are fun and all, but I want to eat this pie for breakfast, snacks and everywhere in between……and stay skinny.
In typical me style, I have created a pie-tart thing that I enjoy as a mini meal before my workout. Yup. Dessert before I work out. It's better than any packaged power bar, fitness shake, etc.
Pie. As. Power. Bar.
It can of course be served as dessert on Halloween or Thanksgiving. You can leave off the Jack-o-lantern face if you wish. Just eat pie.
And don't forget a big glass of ice cold milk. With two straws. You might be willing to share the milk, but not the pie.
If you would like to purchase a copy of this wonderful cookbook Made in America you sure can. It's hot off the press and ready for you. You should have one for yourself and it would make excellent birthday and holiday gifts too.
Do you love pumpkin pie as much as I do? Do you have any comfort food recipe reinventions that you would like to share with us? Feel free to leave any links to those in your comments.
Pumpkin Pie Tart with Almond Crust
Ingredients
For the Crust

1 1/2 cups Blanched Almond Meal
1/4 teaspoon fine Sea Salt
1/4 teaspoon Pumpkin Pie Spice
1/4 teaspoon ground Cinnamon
1/4 teaspoon Baking Soda
1/4 cup Sunflower or Canola Oil
1 tablespoon Water

Pumpkin Filling

1/2 cup unsweetened Pumpkin Purée
1/2 cup fat free Ricotta Cheese
1 teaspoon pure Vanilla Extract or Almond Extract
1/4 teaspoon fine Sea Salt
1/4 teaspoon Pumpkin Pie Spice
1/4 teaspoon ground Cinnamon
1 dropper full Vanilla Stevia Drops adjust to taste

Optional Toppings

Chocolate
Method
Prepare the crust

Pre heat the oven to 350 degrees F with the rack in the middle. In a bowl whisk together the almond flour, baking soda, salt, pumpkin pie spice and cinnamon. Break apart any lumps. Add the oil and water, combine with a spoon. Put the dough on a work surface. Knead the dough until well combined with your hands. Press dough into a 9 inch tart pan. Be sure to press it all the way up the sides and evenly throughout the pan. Put tart on a baking sheet and bake it for 10 minutes. Take it out of the oven and let cool a bit.

Prepare the filling

Mix pumpkin purée with ricotta cheese, sweetener, vanilla, salt, pumpkin pie spice and cinnamon. Evenly distribute it over the partially baked tart dough. Smooth with the back of a spoon or offset spatula.

Bake

With tart on the baking sheet, place in the oven for about 10 minutes. Finish by broiling on low for 4-5 minutes until the edges of the crust are slightly browned and the top of the pumpkin filling crackles a bit. Watch carefully so it does not burn.

Notes

I used a neutral tasting oil, a nutty oil stronger flavored one might be tasty too.
Serve with freshly whipped cream, ice cream or slightly sweetened Greek yogurt. Have some chocolate sauce handy too!
If you love the taste of almond I suggest you go with the almond extract in the filling. It amplifies the flavor in a great way!
https://marlameridith.com/gluten-free-pumpkin-pie-tart-recipe/
Copyright © 2015 Marla Meridith Enterprises, LLC - All Rights Reserved.
Virtual Dinner Party Guests
Check out Lucy's post for more dinner party fun. She has also invited you to be a gate crasher if you are not on the list. After all, party crashing can sometimes be more fun than being on the list. You can also be a fly on the wall over at twitter using #MadeInAmericaDinner
Pumpkin Tarts & Pie Recipe Links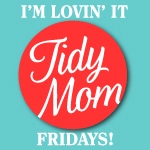 This post has been included in TidyMom's I'm Lovin it Fridays
I'm joining TidyMom and Whirlpool for the 4th Annual Love the Pie Party and entered to win a new Whirlpool Gold® Induction Range