Around here we celebrate whole foods no matter what the season. For the holidays I love to prepare seasonal ingredients with that special holiday twist.
This post will hopefully inspire you to start creating your Thanksgiving menus. It is never too early to get inspired! Perhaps you can test some this weekend…
Appetizers & Small Bites
Bacon and Cheese Stuffed Mushrooms
These mushrooms are a big hit at all of our parties!
Sweet Potatoes with Blue Cheese and Bacon
This appetizer will wow guests with creamy blue cheese, smoky bacon and just a hint of sweetness from the sweet potatoes. It is simple to prepare and you can prep it ahead of time.
Sun-dried Tomato Hummus with Crispy Chips
Hummus is always a crowd pleaser and a bonus is you can make it ahead of time.
Have bowlfuls are these sweet and crunchy nuts available. People will grab them by the handful. They are also great to add to trail mixes and all of your holiday desserts.
Salads
I love all kinds of salads. My Festive Holiday Salad is great as a starter or main dish. A perfect way to use those Thanksgiving leftovers too!
Sweet Potato Bacon Spinach Salad
This salad has my favorite roasted sweet potatoes with crispy bacon, cheese and pomegranate seeds.
Vegetables & Squash
Green Beans with Leeks and Feta
You will love the lightness of this recipe compared to traditionally overcooked green bean casseroles.
Brussels Sprouts with Feta & Pecans
Even non-sprouts fans will fall in love with these. Also try Roasted Brussels Sprouts with Bacon.
Cheesy Bacon & Cheese Spaghetti Squash Casserole
We love spaghetti squash over here. This winter squash is a great replacement for traditional pasta, perfect for Paleo meal plans and people on gluten free diets.
Potatoes
Brown Butter Coconut Mashed Sweet Potatoes
Year round people love potatoes. They are a great side dish at all & winter holiday celebrations. Whether you go with sweet potatoes or starchy white ones you are guaranteed they will be a big hit with your family and guests.
Sweet Potato Soufflé with Feta and Crispy Sage
Recently I tested my kitchen skills with a soufflé. This savory soufflé is guaranteed to be a crowd pleaser, just be sure to serve it straight out of the oven!
Parmesan Hasselback (Hedgehog) Potatoes
Also known as "Accordian" potatoes. These are pretty to look at, delicious to eat and you can season them in so many ways.
Cranberry Sauce
Cranberry Sauce with Pear and Pomegranate
Never ever forget the cranberry sauce! This is my favorite sauce ever. I love to have a Big Batch hanging out in my fridge for oatmeal toppings and parfaits. Who ever decided it would pair so well with turkey and savory sides was a genius.
The color dazzles too!
Stuffing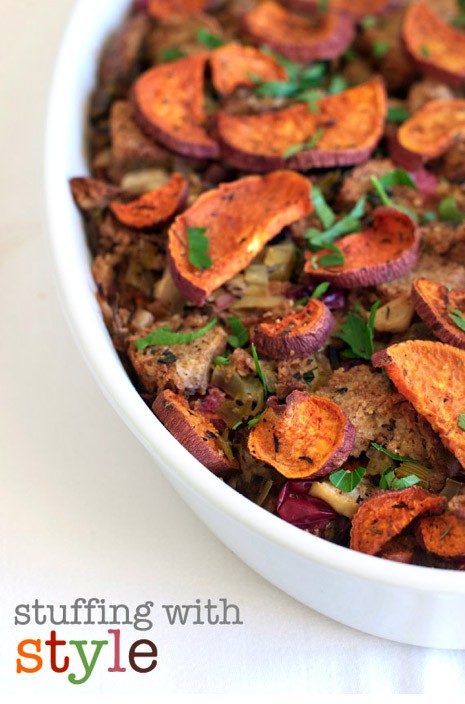 Stuffing with Sweet Potatoes and Cranberries
This is a fun and colorful stuffing recipe. The pop of the cranberries makes it extra special!
Quinoa Stuffing with Apple, Sweet Potato & Hazelnuts
Looking for a grain free, gluten free stuffing? Here is a great option.
Cornbread
Maple Cheddar Skillet Cornbread
No Thanksgiving or holiday spread is complete without cornbread.
Turkey
Quick Pan Seared Turkey Cutlets
Perhaps your Thanksgiving is a little more intimate. Maybe you are cooking for yourself or just one other, not a problem at all. If you don't want to cook a full bird these cutlets are perfect for you. Also try: Spinach, Ricotta, Pomegranate Turkey Roulade
If you want to make Thanksgiving a bit more grand, then you will probably opt for the whole turkey. This recipe I will post soon. Stay tuned.
Dessert
Gluten Free Fall Harvest Fruit Crumble
Crumbles are crisps are one of my favorite desserts. I love warm fruit topped with a sweet, nutty, crunchy topping.
Chocolate Pumpkin Cornbread Layer Cake
I adore layer cake. Especially one that is healthy enough to be served for breakfast, brunch or dessert!
Pumpkin Pie should have no singular season, though I guess it's OK that it does…makes it more special! I did not grow up loving it, but now I find it irresistible.
Once you try this vegan whipped cream made from full-fat coconut milk you will quickly  find that you can't live without it! Use it to top all of your holiday desserts or just eat it by the spoonful.
Certainly a crowd pleaser &  these cupcakes won't cause sugar highs and lows. Always a bonus!
Sweet Potato Chocolate Chip Jar Cakes
Serve your guests dessert in a jar or ramekin and they will never forget how special it was. Sweet potatoes are wonderful in baking. They add delicious flavor, color and vibrancy to a holiday dessert table.
What kinds of recipes do you have planned for Thanksgiving?

'); // ]]>

More Thanksgiving on MarlaMeridith.com
~ Marla Meridith