There has been lots of behind the scenes planning and finally the day is here. A BIG surprise shower for Maria and Josh from Two Peas and Their Pod! Today is your virtual shower for baby pea!! A group of your blogger pals have gotten together to shower you with virtual love and to celebrate your sweet little baby.
Whenever I am at parties you can find me in the corner stuffing my face with all sorts of savories. This protein junkie always craves cheese and eggs so what better than to cook up a frittata for your shower.
Maria and Josh I hope you enjoy your party! All my love and the best to you and your sweet family during this special time in your lives.
Maria, I hope you like that graphic I designed for you. I know how much you love the color green. There is lots of green in this post. It kinda matches your blog.
Baby peas, eggs and your favorite cheese will make the perfect frittata. Take your pick on what kind of cheese you want to use….
Feta ~ Gruyére ~ Mozzarella ~ Parmesan ~ Brie. Anything goes. Really.
While in Telluride this summer I became addicted to sunflower sprouts. They are a delicate little leafy green with a slight hint of sunflower flavor. Speaking of sunflower ~ my Sunflower Seed Cookie Sandwiches would be nice at this baby shower too. They can be served to all the gluten free and vegan guests.
This frittata is great for breakfast, brunch, lunch, dinner or mini meals. Pack it in a lunch box. Or serve it at a bridal or in this case baby shower!
Did I mention that a BIG dash of Tabasco or your favorite hot sauce makes it even better? If you like hot sauce that is. Also a side of roasted sweet potatoes or baked sweet potato fries is a great thing.
Congrats Maria and Josh. I am so happy to know you both so well. I can't wait to meet baby boy pea and to celebrate with your family for reals. Also I look forward to skiing with you in Utah. Someday.
Listed below are the links to the awesome bloggers who shared their finest treats, crafts, bites, sips ooohhs and ahhhs. I want some of each.
Also a shout to my awesome party planning pal Lisa from With Style and Grace. Party with us all and lets celebrate *life*
What is your favorite frittata recipe? Have you ever hosted a baby shower? If so what sort of theme and menu did you have?
If you would like to follow this event on Twitter, the hashtag is #twopeasbabyshower.
[amd-zlrecipe-recipe:5]
Shower Party Links
Drinks
Appetizers/Savory Bites
Dessert
Crafts
Frittata Recipe Links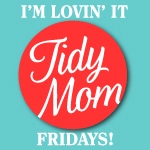 *This post has been included in TidyMom's I'm Lovin it Fridays
~ Marla Meridith