<![CDATA[ How was your Halloween? I hope it was amazing! We had a blast. After all that candy maybe it's time for some veggies? Are you looking to get your kids to try new healthy foods? Or maybe you have adult picky eaters in your house? If you answered a definitive YES to either of those questions then you need to get a copy of The 52 New Foods Challenge by Jennifer Tyler Lee. My son & I had a blast cooking up these Crispy Brussels Sprouts Chips from the book.
Jennifer (the author) is a mom of 2 & has been around the block with picky eaters (like most of us.) She has a successful history of re-defining how to get kids & picky eaters to try & love new foods. A few years ago she developed Crunch a Color card decks ~ these are super fun conversation starter card decks. My kids love them. Having a healthy food dialogue with your kids when they are young is so important & Lee demonstrates how to do this.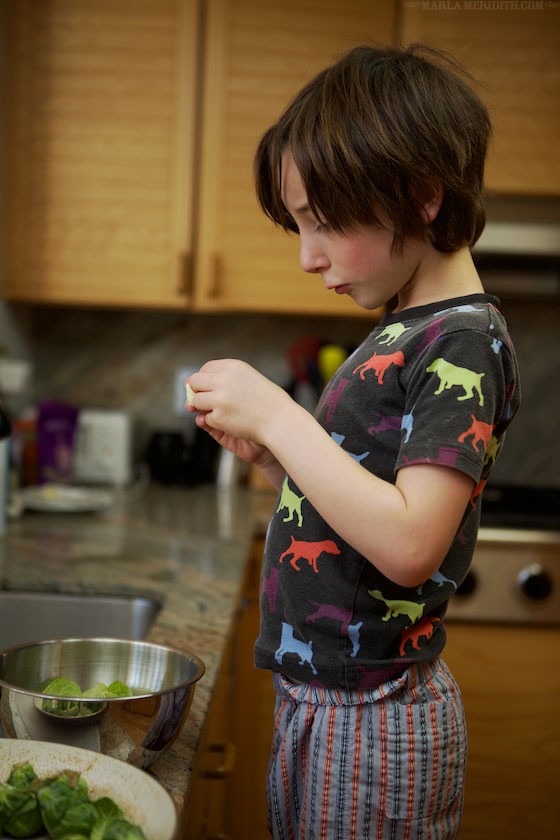 So what is a 52 New Food Challenge anyway?
Great question! It's a cookbook filled with whole food recipes using ingredients geared to change your perspective. Are you looking to break a day to day recipe rut? Are you looking to introduce your family to new foods (or ingredients previously shunned?) Then BOOM! This book will help you get there. Lee invites us to take this culinary journey together.
Being a food photographer I must tell you this…there are no food photos in the book. It's up to you to create your own plates with your own visions. At least you have my brussels sprouts to look at!
Starting the challenge is easy. Each week you focus on a new seasonal ingredient & cook a side dish from the book with it. The book focus is on sides so you don't have big refusals & disappointments. To have the best success chose your weekly foods together. Have your kids help with shopping, prepping & cooking (most important) Being in the kitchen is awe inspiring. My kids have really taken to it & yes, they really are more likely to eat the foods that they helped cooked.
Here are some recipes that inspire me…bet you will find lots to inspire you too!
Grilled Artichokes (pg.74)
Roasted Purple Cauliflower (pg.81)
Rainbow Ribbons (pg.85)
Friendship Garden Soup (pg.87)
Warm Cinnamon Apples (pg. 103)
Persimmon Crepes (pg. 111)
Sautéed Kale & Cranberries (pg. 125)
Cinnamon Beef Noodle Soup with Bok Choy (pg. 133)
Grapefruit & Mint Dressing (pg. 159)
Quinoa Crumble Cakes (pg. 168)
Pea Shooters (pg. 201)
Roasted Plum with Pistachios (pg.211)
& lots more!
These brussels sprouts chips are a favorite in our house ~ they are great as snacks, sides & would be perfect for a Thanksgiving appetizer!
Click HERE for recipe details.
Brussels Sprouts Recipe Links
]]>
~ Marla Meridith