Sometimes simple is best. Actually around here simple is pretty much always in season, no matter what time of year. Do you own a cast iron skillet? I hope the answer is yes. If not, you kinda need one like now. Cast Iron Skillet Grilled Cheese Sandwiches have become my go-to meal.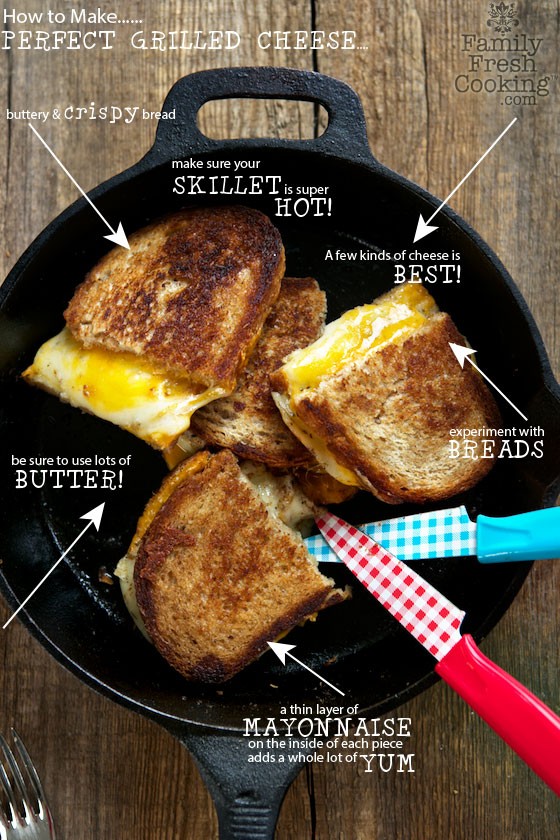 Those of you who know me well, know that I love a hot & melty grilled cheese sandwich. Especially after a hike…
So why cast iron skillet you might ask?
The secret to the best grilled cheese is having a super hot surface that conducts heat really well. That's exactly what a cast iron skillet does. It's a thick, heavy, inexpensive pan that is indispensable in the kitchen. It's a work horse whose benefits are worth the little bit of extra loving you need to give it.
A cast iron skillet will last a lifetime if you season it properly & give it a little TLC. Here are a few posts to help you with that.
Have fun with your cheese selections. In these sandwiches I used Asiago with rosemary & medium cheddar slices.
Using pre-sliced cheese is very easy & a time saver, but most of the higher quality cheeses are obviously in wedges, rounds & blocks. If hand trimming then be sure to cut each slice no thicker than 1/4 inch ~ so it melts quickly & completely.
Enjoy 1/2 a sandwich for a mini-meal & a full one for lunch or dinner. No matter how you slice it…..you will no doubt love this crispy, buttery & gooey cheesy sandwich.
You can purchase a cast iron skillet here & The New Cast Iron Skillet Cookbook too!
Click HERE for recipe details.
Grilled Cheese Recipe Links
Disclosure: This post contains affiliate links.
~ Marla Meridith