Recently I bought a whole bunch of juicy pears. I also had a bunch of carrots. *boom* Sparks started flying and instead of my usual homemade applesauce I decided to combine ripe green D'anjou pears with a few carrots. I have to tell you that the combination with some chai spices is irresistible.
Your house will smell amazing as pear & carrot combine with cinnamon, ginger, cardamom and a dash of black pepper…

For me I only like to eat pears out of hand when they are just ripe. Not too ripe. I enjoy some crispness and snap to each bite.
As soon as pears ripen they need to be eaten rather quickly. They get brown and squishy fast, if you see this happening make some pear sauce quick! Just chop 'em up, put them in a pan and heat for about 25 minutes. Purée and you are done. Add some spices if you wish.
The carrots are a playful & well worth it twist.
Carrots might sound a bit unusual to add to your pear sauce, but don't over think it. Just do it.
The color of this pear-carrot sauce stunning! Dreamy jewel like. The carrot taste is subtle and just right. The pear comes through more and the carrot accents that.
Other than by itself or in parfaits I love to bake with pear sauce. Check out this Pear Spice Cake with Toasted Walnuts recipe I created last fall. I must bake one up again asap.
Take a look at how different these pears look at the same time of day with different angles. That color and light play always amazes me. Here we have the fruit backlit. They appear a lot more yellow than green.
Where they look their true green color they are shot more from the side. Amazing the different moods that are created just by moving your body around the subject.
The bright green of the crunchy pistachios is fun against the orange and white of the parfaits.
If you are not vegan thick greek yogurt is a nice protein boost. If you don't do dairy how about some soy yogurt? This sauce would also make great baby food. No pistachios for the babies though OK?!
See the brown swirl? That is black strap molasses. This unrefined sweetener has a very distinct flavor and can be found in recipes like gingerbread and baked beans. It tastes amazing in these parfaits. A little goes a long way when it comes to the flavor of molasses.
It is not cloying sweet…just sweet enough.
Do you make homemade fruit sauces? I have lots of applesauce recipes you can cook up. Another one that is orange in color and out of this world is my Pumpkin Vanilla Applesauce. You can see those in my apples category on my recipe page.
Have you ever made or tasted pear sauce? What spices do you like to add? Do you ever bake with fruit sauce?
Chai Carrot Pear Sauce Parfaits
Ingredients
6 ripe Pears, cut into chunky pieces (I like D'Anjou and Bartlett)
1 cup chopped Carrots
1/2 freshly squeezed Lemon Juice or 1 tablespoon
splash of Water
a few pinches of ground Cardamom, Black Pepper, Cinnamon, Ginger - adjust to taste
a pinch of fine Sea Salt
natural Sweetener if desired (my pears were ripe enough no sweetener was needed)
4-6 ounces of thick Greek yogurt per serving
Method
Put fruit and carrots in a medium sauce pan with a splash of water. Bring to a boil and then reduce to a simmer, add the seasonings and salt, partially cover. Simmer about 25-30 minutes until the pears and carrots are softened. Stir occasionally. Remove from the heat and carefully purée in a blender until smooth. Adjust any spices to taste. Make some yogurt parfaits or enjoy as is.

Notes

Adjust your pear-carrot ratio according to what flavor you would like more pronounced.
https://marlameridith.com/chai-pear-carrot-sauce-parfaits-recipe/
Copyright © 2015 Marla Meridith Enterprises, LLC - All Rights Reserved.
Pear Recipe Links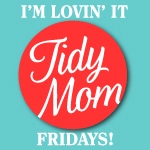 This post has been included in TidyMom's I'm Lovin it Fridays