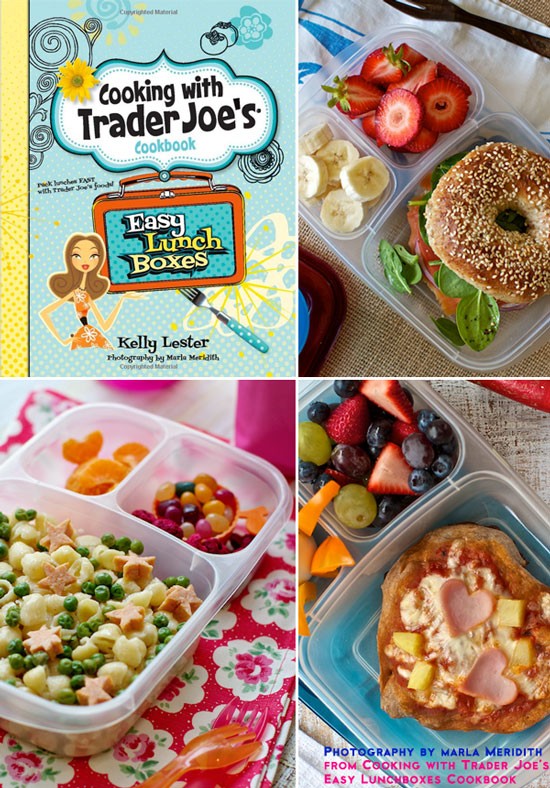 Yay! It has finally hit the stores, the Cooking with Trader Joe's Easy Lunchboxes Cookbook that I photographed. I am so proud of my friend Kelly Lester the creator of the fabulous (my favorite) Easy Lunchboxes & writer of this cookbook.
As most of you know by now I have been a huge fan of  these convenient bento boxes for quite some time. They are used in virtually all of my Project LunchBox posts.
It was a natural fit when Kelly asked me to shoot her cookbook. Thanks Kelly…
Have you ever shot a cookbook? If you have then you know it is heaps of work. From the shopping, prep work, cooking, styling, photography, edits….oh is it a treat of a job! Crazy busy, but one of the best things I have ever done. For certain. Handing in the final photos is one of the best feelings ever.
Shooting the Cooking with Trader Joe's ELB book this past April (yes I had roughly 30 days to work this magic) was a test in time management and endurance. I thought training for the Boston Marathon (click the link for my 2005 race results) was hard…not compared to this! My days were well planned, long and strategic.
For this cookbook I had over 80 bento boxes created by 32 talented food bloggers to photograph. In the end I think I shot over 1000 photos and submitted over 200.
Each trip home from school I would stop at Trader Joe's. I always needed something. My days were spent prepping, cooking and being a light chaser.
Working with all natural light I had to make sure I grabbed all of the daylight I could. Sometimes this meant heading outside to the sidewalk with all sorts of reflectors and my kids as assistants!
The weekdays were busy, but the weekends busier! Weekends meant no driving to school and a whole lot more time to cook & photograph. Sunless, gray days were a challenge ~ but thank goodness for awesome photo equipment and my favorite 50mm 1.2 lens that lets in a whole bunch of light.
Hope you enjoy this book & get loads of simple, new & delicious recipe ideas. If you don't have a Trader Joe's nearby do not fret ~ you can find the ingredients for these recipes at any market!
You can help this book reach the moon by leaving some nice reviews and comments over at Amazon.com too!
Want to win a Cooking with Trader Joe's Easy Lunchboxes Cookbook & (1) Easy Lunchboxes Bento Box/Insulated Cooler Bag Set….go right on ahead!
*Please note this giveaway is open to USA residents only.
~ Marla Meridith