Recently my daughter and I had the great fortune to explore Northern California's rich in culture & natural beauty Mendocino Coast. This part of CA is different then any other. It's peaceful, alluring and somewhat sleepy compared to the hustle bustle of LA or the glitz of Orange County. We opted to road trip out to the west coast from our home in the Rocky Mountains. We took our time exploring along the way with our first stop being Las Vegas. Allowing time for many stops is not negotiable when the journey is 1,168 miles each way.
Stop 1: Wynn Hotel Las Vegas
Telluride to Las Vegas: 590 miles, 9 hours 25 minutes
Las Vegas is so completely different than the small mountain town we live in Telluride, Colorado. It was my daughters first visit to Sin City, I find there's no other way to do it then with over the top opulence and luxury. I choose the Wynn as our stomping ground and was very pleased with our stay there. The shopping is spectacular with luxe favorites including Balenciaga, Louis Vuitton, Chanel and Zimmermann.

Breakfast each morning in the hotel at Tableau was wonderful. The interior design and service here was 5-star, one of our most memorable parts of Vegas. After breakfast we enjoyed time poolside it's best to get there early to pick your coveted spot in the sun or shade.
If you have some time to visit the spa do so! It's such a cool environment inside and the service menu is filled with specialty treatments. The lobby is dark and sultry, the women's area feels very light and French country. I indulged in a spray tan to make sure I was pool ready!
Stop 2: San Francisco / The Clift Royal Sonesta Hotel
Las Vegas to San Francisco: 568 miles, 8 hours 23 minutes
Several years ago I visited the former incarnation of the Clift while attending a food blogger conference. It was a fun spot to be then and now. The property had a substantial face lift in the past year and the vibe is fresh, city modern with a nod to San Franciscos iconic past. The design is tailored yet very comfortable, neutral shades make for a very relaxing atmosphere. Our room was comfortable, quiet and well appointed.
The contrast of styles seen in the rooms and lobby (city modern) are quite different then those found in the Redwood Room and Fredericks café (the hotels history is preserved in these areas.) We enjoyed delicious breakfast pastries from Fredericks, but were not able to enjoy the small plates and Liquid Art cocktail offerings in the Redwood Room due to Covid staff limitations. It sounds like the Redwood Room is quite the gathering spot for both locals and hotel guests when Covid isn't a thing.
The Clift's famous and historic Redwood Room….legend has, was carved from a single redwood tree, as well as an enormous bar made from an 800-year-old redwood tree. The original artwork on the walls by Austrian painter Gustav Klimt was restored and re-hung.

Clift Royal Sonesta
My daughter and I enjoyed time walking around San Francisco. She's a teen so the Haight was a total tie dye highlight. The weather was perfect, having no real plan was the best way to enjoy the city and to indulge in many treats along the way. Notable was most delicious tiramisu from Stella Pastry & Café in North Beach.
Stop 3: Lula Cellars, Anderson Valley CA
San Francisco to Philo, CA: 105 miles, 2 hours 20 minutes (If you get carsick on switchbacks and very winding roads remember that Dramamine!)
We packed up the Jeep and headed northwest on narrow, winding country roads that landed us in beautiful Anderson Valley. This wine country region is bustling with vineyards and wineries, several of which I recognized along the way. I was invited to a wine tasting at Lula Cellars, a boutique winery best known for their world-class Pinot Noirs.
I tasted several of their delicious wines and enjoyed the sunny afternoon walking through the vineyards. Tasting room manager Dan Reed and his pup Kepler were a joy to meet. Dan is super outgoing and personable, he gave us the history of the Valley, taught us about the wines and showed us around the beautiful 22 acre property.
Stop 4: Brewery Gulch Inn, Mendocino, CA
Philo to Mendocino: 25 miles, 50 minutes
Next up it was time to head to the coast, Mendocino greeted us with very different weather than Anderson Valley. The fog and clouds were thick and the scene wonderfully moody. On the drive to the rugged coast we stopped to hug redwoods and to walk along the craggy cliffs lining the roaring Pacific ocean. The scenery changes along the way are breathtaking and nature prevails.
Upon check in at the Brewery Gulch Inn we were greeted with the daily afternoon Wine and Appetizer hour. We took our eco-salvaged Redwood, rooun zm specific "Mendo" box and indulged in the offerings. This was the grandest bento box I've ever seen! Filled with generous portions of an Heirloom Tomato & Asparagus Salad, Short Rib Mac 'n Cheese and Fruit Pie, these dishes were all we needed to wrap up a great day. Local wine, beer, coffee, tea and juices are also served in the Great Room.
Dishes are all cooked on the premises using locally sourced ingredients and organically grown fruits and vegetables. Cooked-to-order breakfasts had us jumping out of bed. Not to be missed is the Millionaire's Bacon, thick-cut, slow-roasted sweet and spicy caramelized bacon. It's wonderfully satisfying and gets you ready for the fun day ahead.
Our guest room "The Osprey" was very spacious with a balcony, gas fireplace, a large soaking tub and and views of the Pacific. My daughter spent lots of time on the balcony cozied up in chunky sweaters, wrapped in blankets and her sketch book. The creative inspiration and relaxation at BGI is captivating. Distinguished as environmentally-responsible stewards, the Inn has been certified by the Green Hotels Association for their continued efforts in protecting the environment. Located near the giant Redwood forests, a natural addition to the Inn's offerings is Shinshin (Forest Bathing) We felt so relaxed on the property.
The wood used in the construction of the Brewery Gulch Inn features 150-year old eco-salvaged, first growth virgin redwood timbers that were pulled from the mud and silt of Mendocino's Big River.

Brewery Gulch Inn
I spent a great part of my time in the Great Room. 13 foot high Redwood trimmed french doors bring the outside in and the giant fireplace assures warmth even when the temps dip. I found it very relaxing in there to read and study. Birdhouses adorn the property and it's amazing how much wildlife feels at home here.
My daughter and I are always up for outdoor adventures and horseback riding on the coast was on our bucket list. Ross Ranch came highly recommended from the Inn. We met up with the group and enjoyed the most amazing ride along Manchester Beach. Our horses were gentle, very well trained and liked to pose for photos.
Stop 5: Little River Inn, Mendocino, CA
Location: A few miles north of Brewery Gulch Inn
We had lots to explore in Mendocino and our next stop was just a few miles north. The historic Little River Inn has been welcoming guests for over five generations. The vibe is once again, very peaceful and relaxing at this property with sweeping views of the Pacific Ocean. The original house was built in 1853 and the Victorian architecture around the grounds blends seamlessly.
Our lodging was a few minutes down the road from the main entrance in Hannah Madison located at the Mallory House (a car is recommended for this distance) Our accommodations were just steps from a steep bluff perched over the ocean. It was so dramatic to look straight down to see the waves crashing against huge rocks. Our king room was very spacious with a large bedroom, living room and a huge glass enclosed shower & soaking tub.
We spent a great deal of time on our front porch. Upon arrival awaiting in our room was a very generous picnic cooler overflowing with cheeses, chocolates, fruit, crackers and bubbly. We enjoyed these treats after a dip in our private hot tub. Time was well spent giggling and telling stories on our rocking chairs snuggled up in a Little River Inn fleece blanket. Truly wonderful memories were made here!
I recommend you enjoy dinner at the Inn, located by the main entrance. We indulged in many menu items including the decadent Garlic Fries, Fork & Knife Salad (with the freshest heirloom tomatoes), Cioppino (perfect for a chilly evening) all served up with a glass (or two!) of Anderson Vally wine.
To work off all the tasty bites we played a chilly & fun round of golf on the nine-hole course located on the property. The golf course is an Audubon-certified sanctuary and we felt at one with nature. We had deer buddies watching our comical golf game. The course was opened in 1957, you can really feel the retro vibe on this very affordable public course.
No trip to Mendocino would be complete without a trip to see the giant redwood trees. We ventured through more winding roads 1/2 hour (it felt like way more) to Montgomery Woods State Natural Preserve. This old growth grove is majestic, it's as if you have stepped into a private sanctuary, a kingdom of trees that have seen hundreds of years on this earth. The only noises heard are those of gentle winds cutting through the trees. This is a place like no other and not to be missed.
Stop 6: Noyo Harbor Inn
Mendocino to Fort Bragg, CA: 10 Miles, 10 minutes
Our final stop before heading back to Colorado was Fort Bragg, CA. We checked into the Noyo Harbor Inn perched above an active harbor and forests. This Craftsman style inn dates back to the 1850's and has a rich history Extensive renovations were completed in 2017, our open plan guest room was spacious and well laid out with a large soaking tub & shower, queen bed and a step down to a sweet couch/TV area. There was also a small deck to take in the activity on the harbor.
We enjoyed dinner on the property at the Harborview Bistro. I had the most delicious salmon for my entree and my daughter had the Farro Bowl. I washed it all down with the Watermelon Sugar Rush Cocktail, a refreshing beverage with fresh watermelon, cucumber, vodka, lemon juice and elderflower liqueur.
Located near the inn is the famous Skunk Train and Rail Bikes. We had never experienced anything like these wild electric-powered custom-built two-person rail bikes. With the power assist we tooled down the tracks along the world-famous Redwood Route. The route takes riders 25 miles off the beaten path on train rails along the Noyo River and deep into old-growth redwood groves. Our battery died several times and the ease of this became one of our toughest workouts to date, well needed after a few weeks of vacation feasting!
The Village of Mendocino
We loved hanging out in The Village of Mendocino, located just minutes from the Brewery Gulch Inn, Little River Inn and Fort Bragg. The restaurants, cafes and shopping in this charming town are well worth checking out. Listed on the National Register of Historic places this town is out of a story book. Take plenty of time to walk around the Village to see the colorful architecture and to walk down to the ocean.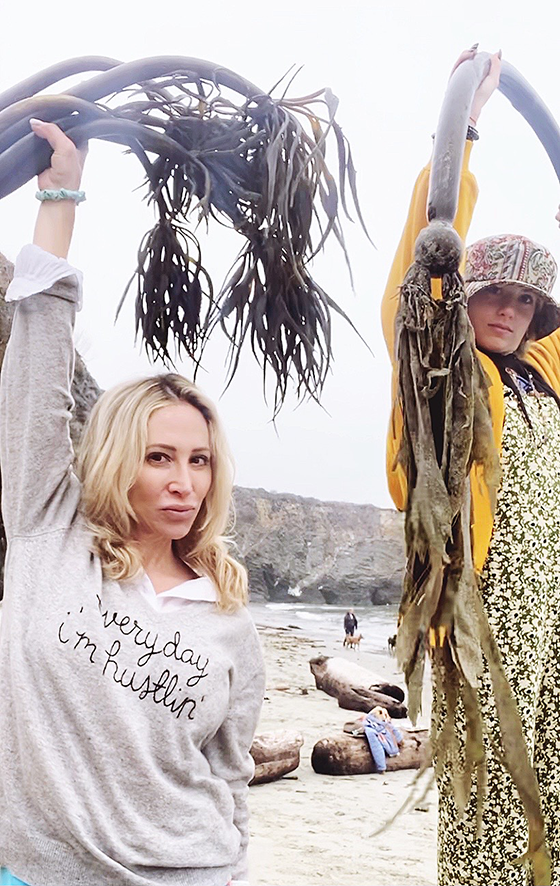 Big thanks to the team who helped put this trip together. We learned so much about Mendocino County and are so grateful for the kind hospitality we received everywhere.
~ Marla Meridith