You guys pop over here to create healthy, delicious, whole food recipes. Simple recipes with bold flavors and great for you ingredients. Here is a list of  Thanksgiving recipes for your holiday table. If you are anything like me then you are still shopping and won't be doing much cooking until the day before and day of.
If you have been crawling my recipe page then hopefully you have all ready found what you are looking for. To make things convenient, here is everything you should need in one place.
From our home to yours we wish you a Happy Thanksgiving filled with love, laughter and lots and lots of healthy, joyful food.

I know the word super foods is kinda kitchy and implies food that flies around wearing capes. It is a word that has come to mean healthy, whole foods that are energizing and disease preventative. I am not stating any claims other than the fact that this is how we always like to eat around here.
I hope this little pinecone turkey makes you smile. I was tickled when my daughter brought him home from school…
What should we name him? He needs a name.
No matter what time of year it is we try to stick to the freshest, organic ingredients we can find. When you source the best, the flavors are sure to shine….
Holidays or any other days of the year. The quality of your ingredients should be amazing.
My friend Angie met me for coffee the other day with a huge bag of fall leaves. She handed them to me with a big smile on her face. She knew they would make me happy. Thank you friend. They sure do look pretty in photos.
Let's begin the feast & the holiday celebration shall we?
Lets start with some quick appetizer ideas.
Stuffed Mushrooms and Grilled Cheese Bruschetta are two great options.
A few more appetizers:
Now let's work on Seasonal Salads. Here are a few you could try…
Soup can be a nice warming starter…
Side dishes always seem to tie with dessert as everyone's favorite holiday foods.
Here are our favorite Browned Butter Mashed Sweet Potatoes with Coconut. Just two tablespoons of browned butter can add a whole bunch of great flavor to 3 pounds of sweet potatoes. Trust me, you will want a lot of this recipe for leftovers. More on that in my next post…
Green Beans with Leeks and Feta are the perfect alternative to the typical green bean casserole. Sweet Potatoes & Edamame with Fall Spices is delicious too.
How about a Spaghetti Squash with Bacon Casserole? Nutty Gruyere cheese with smoky bacon is a dreamy combo.
Lets not forget the cranberry sauce. Never ever forget that.
Mine is flavored with citrus, pear and pomegranate seeds. Those fruity flavors balance the tart cranberries really nicely. I also love to use it in yogurt parfaits after the big feast.
Turkey or some other protein is essential.
This year I will make a full bird for the 4 of us. I like to rub melted butter all over the skin and season with fresh herbs, spices and citrus. Quite similar to this recipe by Giada De Laurentiis.
I am not opposed to cooking up smaller pieces of protein. Quick Pan Seared Turkey Cutlets and Spinach Ricotta Turkey Roulade with Pomegranate are two great options. My turkey roulade recipe is featured on the City of Hope Facebook page as being part of their "Super Foods For Super Health" series. Thanks guys!
Gravy……I do not have a recipe on my blog for that yet but here are a few I will consider making.
My daughter wants one with a slight sweetness. For that, I love the sound of A Spicy Perspective's Apple Cider Turkey Gravy. Here is an interesting Vegan Gravy at What Would Cathy Eat.
Stuffing. I think stuffing is everyone's favorite holiday carb. Mine has more….sweet potatoes! I love to use organic sprouted grain Ezekiel Bread in our stuffing recipe. I toast the bread first & the flavor is wonderful!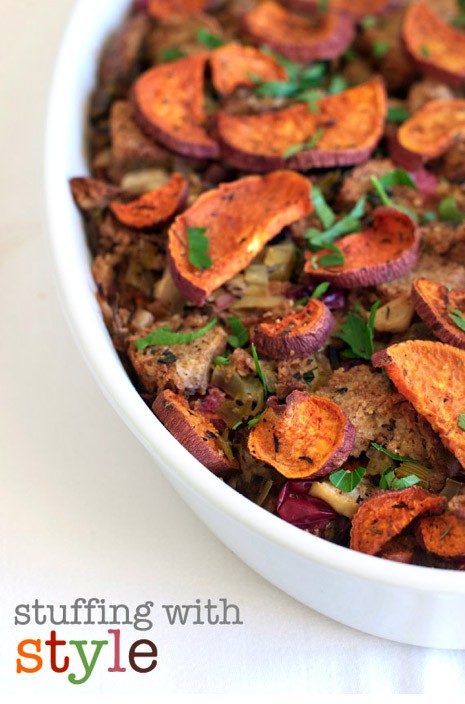 Dessert. No holiday feast is complete without dessert. This year I will be baking up a few of our favorite Gluten Free Pumpkin Pie Tarts.
A few more healthy desserts that you can whip up in a pinch:
Don't ever for get to….
Thanksgiving Around the Web
~ Marla Meridith