Labor Day. The last long weekend of summer is here. Can someone please tell me where the time went? This summer flew by in one big whoosh. Now we are about to welcome fall. My daughter is back in school and my son waits in the wings for pre-school to start next week. With a long 3 day weekend ahead, lots of folks will be grilling, entertaining guests and embracing the abundance of late summer garden fresh ingredients.
I am thrilled to share a tasty re-cap of what summer was to us…in a Happy Post. I have made it so you can add links from your blog, posts that inspire you. Whatever you like, does not have to be food. Simply happy inspiration that you want to share with us.
Let's spread the *happy*

Summer was plentiful, abundant and filled with life long memories. We were in Telluride for many weeks and it hurt to leave. My true spirit thrives in those mountains. Perhaps we will live there full time some day. A girl can dream right? Admittedly I need to find my groove back here in the OC. CO taps into my creative spirit and helps me find my center.
It is a place where this Energizer Bunny can beat her drum with pride.
Strawberry Peach Coconut Popsicles help cool us down.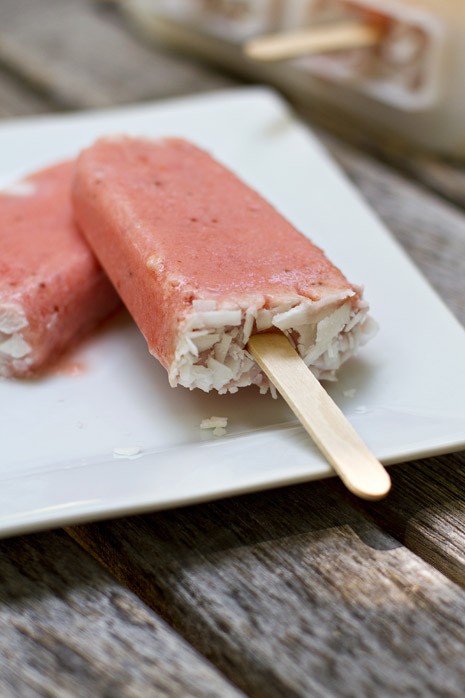 So does Honeydew Sherbet-Ice Milk.
Gotta admit I hardly had a clue as to what Labor Day actually celebrates.
Wikipedia always helps with the unknown. Here goes: "Traditionally, Labor Day is celebrated by most Americans as the symbolic end of the summer. In high society, Labor Day is (or was) considered the last day of the year when it is fashionable for women to wear white"
I will continue to wear white. ~  Just sayin' ~ I will also eat these Grilled Chicken Kebabs with Roasted Red Pepper Dip all year long.
All kinds of skewered food were smokin' this summer. Perhaps it was my buddies Matt and Adam's book On A Stick that made all foods served on a stick ultra HOT. That book is really amazing, if you don't already have it you must.
Here are a few more of my fun foods on sticks….try some Grilled Hot Dog Skewers with Avocado Dip
Or how about Mini BLT Skewers…..
Were you around this summer for the 6 week Get Grillin' I hosted with Cookin' Canuck? Gosh was that fun.We grilled & grilled then grilled some more. We loved sharing recipes with you and we LOVED those you shared with us.
My Balsamic Grilled Vegetables were a colorful hit.
Salad heaped with fresh veggies, grilled chicken, soy glazed tofu or meat are always a hit too. Add some grilled Camembert cheese to that and heaven is found…
A sweet strawberry or raspberry vinaigrette salad dressing helps too.
I was so happy when my BLT-A Quinoa Salad made it to the pages of Bon Appétit online. Oh happy days…..
Sweet pizzas became quickly addictive and you have not seen the end of those around here. Chocolate Peanut Butter Banana, Grilled Chocolate Cherry  and Summer Fruit Crostatas are all time favorites.
Notice the chocolate obsession on those……
Let's not forget how delicious summer fruit is by the handful.
And then of course when we add a gluten free vegan cookie crust underneath to make fruity tarts.
To wash it all down I came up with a Creamy Blueberry Banana Shake that we enjoy often.
I hope you like all nibbles from out summer. Hopefully you can sample them some day.
Here's to a delightful long weekend and a nod to the cooler seasons ahead. My personal favorite time of year. I was at the beach one time this summer (I live within 10 miles of it) Does that tell you how much I crave and adore the mountains?
Remember my lick of fall in the heat of summer in early August? If you are a fan of pumpkin I believe you will love these Pumpkin Pie Popsicles.
What are some of your favorite summer memories? Do you celebrate through food too? I have a sneaky feeling you do….
Link up your favorite summer recipes or whatever made you *happy* from the past few months. Be sure to link back to this post or MarlaMeridith.com  you can also add my Happy Post Badge below to your submitted post. Let's spread the HAPPY. I will share a re-cap of some of those on Monday.
Here is the badge, and code to add it to your blog (You can also find it on my my badges page shortly)
BADGE: 150 x 150 Pixels
Add Happy Links Here – Whatever Inspires You….Food, Crafts, Photography, etc.



*By the way I will be specking at two events this fall. If you are in the area pop I would love to say *hi* On September 23rd I will be on a panel at Techmunch LA in Santa Monica, CA. On October 15th I will be on a panel in Atlanta, Georgia at the Fresh Summit Conference speaking to the Produce Marketing Association.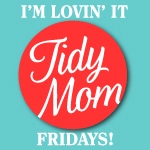 *This post has been included in TidyMom's I'm Lovin it Fridays
~ Marla Meridith