I'll forever be grinning from ear to ear about this trip. I love when travel hits me deep in my soul. I recently experienced my very first CMH Heli-Skiing vacation and guess what…I'm already booked for next February. It was that great. Tucked away in the heart of the Columbia mountains there is a very special experience that awaits. It's called the Bugaboos and powder skiers, I suggest you add this to the top of your bucket list. If you have been following my snowy adventures on Instagram, then you would know how obsessed I am with skiing and everything winter.
This year Colorado and the surrounding states have had a less than average snowfall. It's still been a wonderful season here where I live in Telluride, CO. But, the snow in Canada has been epic. I had many reasons to take this trip and I'm very glad I did.
My plane landed in Calgary in a snow globe and I lived in Narnia for the next week. The snow accumulated 20 cm overnight. Every day we were greeted with knee-deep superfine powder. Are there many reasons to book a trip with CMH? Yes, here are some stand out reasons why:
The Snow
One of my all-time favorite books and films since I was a kid is The Lion, Witch and the Wardrobe. I'm obsessed with snow, the more the better. The idea of living in Narnia, wearing white fur and eating Turkish Delight is dreamy. This is the closest I have come to real world Narnia. Every day it would start snowing around lunch time and the inches would grow exponentially overnight. This meant we woke up to diamonds in the snow. Knee deep (or thigh deep in my case) powder that sparkled in the sun. Farming turns is inevitable…
The Staff & Ski Guides
The entire team at The Bugaboos was super kind, professional and fun to be around. From the ski guides, heli team to the house staff. Everyone is genuinely thrilled to be there and they love what they do. The lodge is referred to as "home" and that's exactly how it feels once you step inside.
The Heli-Ski guides have the highest levels of outdoors and avalanche certification, which is essential for this type of skiing. They are kind, very smart and obsessed with skiing and the great outdoors. One needs to be very knowledgeable in all areas of first responder, avalanche, and communications to take on a job like this.
The Lodge
Bugaboos is a rustic lodge. It's got everything you need to stay cozy and pampered. The main living room is the heart of the lodge. Cozy up by the roaring fireplace. Coffee, tea and hot cocoa are always at the ready. There are giant sofas to lounge on and thankfully very functional WiFi. I love to stay connected when I travel and thankfully it was easy to do this.
Inside the lodge, they prepare your skis and your gear is stored in this drying room. Everything is so well organized and ready to go when you are.
The bedrooms are basic, but all you do is sleep in them anyway. Most of the time you are out socializing in the hot tub, living room or at dining tables. The lodge is very clean and super comfortable. It's a place where you feel very cozy & comfortable to tuck in at night.
The Food & Drink
Prior to leaving for this trip, my friends who had been before told me how much I would love the food. Not only was it plentiful, but the meals were absolutely delicious. All of them, from the breakfast, brunch, lunch, heli-snacks, aprés and dinner. The chef's take great care in making certain that we are well fed all the time. There is a bar next to the dining room and drinks were flowing. If you have any food restrictions or dietary needs they will make accommodations for those.
Lunches are a real treat. After skiing thousands of vertical in the morning, the break for lunch is set up out in the snow. A heli team sets up camp in the mountains just below your tracks. After skiing hard you come into lunch very hungry. There are plentiful sandwich options, hot soup and tea waiting for you. There are also delicious homemade cookies and plenty of chocolate & energy bars to refill your pockets.
The homemade heli-snacks were awesome when you needed a quick bite in between runs.
Location
In the winter there is only one way to get to the Bugaboos and that's by helicopter. You are tucked into the Canadian wilderness and there is nothing else nearby. This means you get to be at one with nature, which is one of the main reasons why you go somewhere like this anyways. In the summer the pass is drivable, but the heli is always more fun!
Overall Impressions 
I often travel solo, but I'm really happy I was with ten friends from Telluride. The staff divided the lodge into 4 groups for skiing and this is the pack you stay with every day. We all rode in the same helicopter and it was fun to share so many new experiences with these folks. I only knew a few of them before I left, but we were all amazing friends after the first day of the week-long adventure.
If you travel alone or as a couple, you will have the opportunity to meet so many great folks. Our lodge held just over 40 guests. I met avid skiers from around the world. It was so fun to share travel tips and stories with each other at breakfast, lunch, aprés and dinner. I've heard great things about all of the CMH lodges. You can also visit in the summer where there are plenty of adventures to choose from.
At the end of my trip I met this sweet Bernadoodle Tex, she stole my heart…
CMH is a 5-star experience…not in the traditional Relais & Chateaux or Four Seasons way. But in it's own unique way that I urge you to discover on your own in the winter or summer.
Do you have a heli vacation coming up? Check out my post How To to Pack for a Heel-Skiing Trip
Reach out to CMH at any time, they can help book your next trip.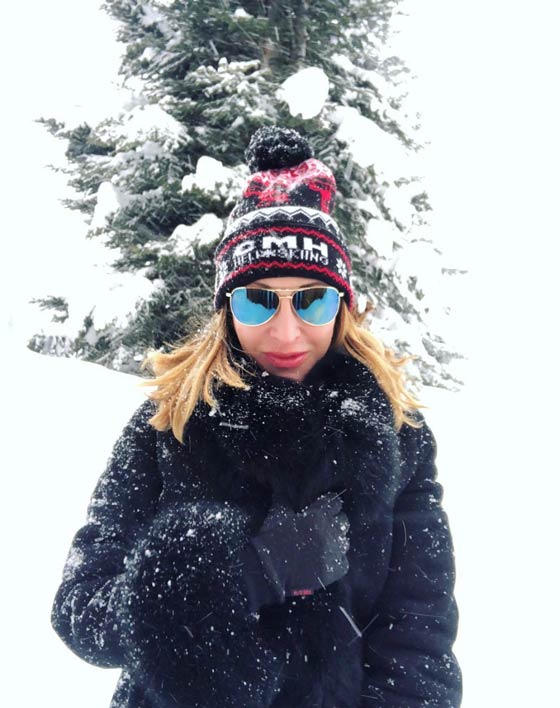 Watch these two videos from our trip:
SaveSave
SaveSave
SaveSave
SaveSave
SaveSave
~ Marla Meridith