Let's talk about HYGGE, pronounced not at all the way it looks…it's Hoo-Gah. Think about the word HUG add an OO and a UH. This is a Danish phenomena and the secret to the folks in Denmark being known as the happiest people in the world (no, it's not Disneyland.) Hygge has been a hot topic on the web for the past few years.
Basically it means "a cozy lifestyle." It's that feeling you get in a safe, comfortable nook. This cozy way of being has been brought around the world back to us in the USA. The cold, dark days of winter are a special time to practice everything Hygge. Looking for the best life has to offer? Then you might have might have just found it today, right here.
Night shirt by Ugg. Mug by Pip Studio.
Hygge offers us a way to live, dress, eat and get together. It's a mood. To feel sooooo comfortable in everything you do. It's that magical feeling of cuddling on a comfy sofa, hugging your pet, sipping on hot cocoa, eating comfort food. It's that feeling of overall, internal and external bliss. After exploring all this hype it's time for me to book a trip to Denmark! Hygee is not only for coziness indoors, it's also for the outdoors. Check out these two posts for more comfy inspo:
And these recipe posts….
Hot Cocoa Recipes to Keep You Warm, Cozy & Happy
Here's a fun list of offerings that will help you live the Hygee life.
Scented Candles: They make any room in your home smell wonderful and they are so pretty!

Cozy Socks: Show off your unique style with patterned socks.

Night Shirt: Part PJ's part dress, I LOVE these things!

Slippers: Slink around in these beauties and your feet will never get cold!

Sweatshirt: Make it oversized to be completely delicious to wear.

Sweatpants: If you have the sweatshirt…then you need to pants too!

Pet Beds: Of course the fur babies need to be as comfy as possible too!

Hot Cocoa: Nothing beats a hot mug of hot cocoa while cuddling in PJ's by the fire.

Fluffy Blanket! Got to wrap yourself in something fabulous.

Sheepskin Rug: Roll around on one of these and you might stay there forever.

The Perfect Mug: You've gotta have a go-to mug for that hot chocolate.

Tea Kettle: You need one of these to warm up that water for soothing tea.

Have the friends over and play The Hygge Game
Read The Little Book of Hygge and learn a whole lot more about it.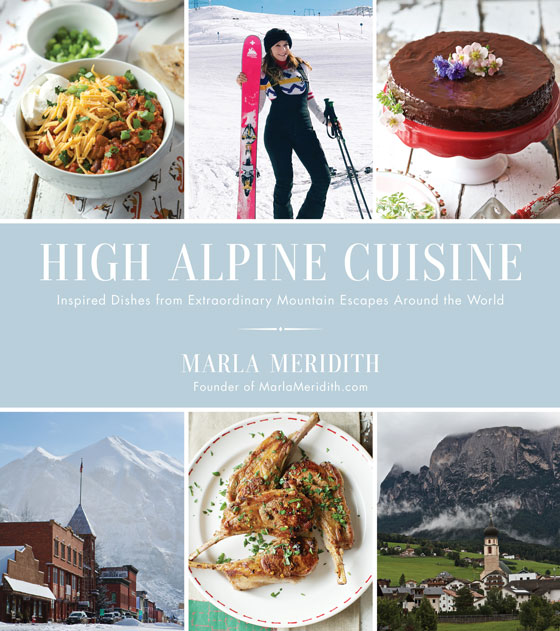 My cookbook High Alpine Cuisine has so many delicious comfort food recipes.
Another great read Making Winter: A Hygge-Inspired Guide to Surviving the Winter Months
~ Marla Meridith