Back to school is almost here friends. As a matter of fact we were in school yesterday getting all excited about the first day back.
A few years ago I launched Project LunchBox…it was very well received by all of you! Let's kick off the 2013-14 school year with healthy lunches packed at home.
Lots of school days in September I will post a lunchbox here on MarlaMeridith.com. I want you to join in on the fun too!
Link up your blog to the bottom of this post and add a September Challenge badge to your blog (side bar or blog post) Post a lunchbox recipe or any kinda lunchbox idea throughout September. Whenever you do link it up to any of my September Challenge blog posts.
Challenge
So what is a September Project LunchBox Challenge anyways? Basically you can set a goal to pack lunch for yourself and/or kiddos for the month of September. (If I can do it … you sure can!)
If you write a blog post with your great ideas even better! This is the honor system guys…we are simply trying to motivate each other to pack healthy meals at home.
Giveaway!
Thanks for participating! this giveaway is now closed. 3 winners have been chosen and are being sent their cookbooks.
In early October I will randomly choose 3 participants & send ya a Cooking with Trader Joe's EasyLunchBoxes Cookbook! (Winners must be USA residents, but everyone is welcome to participate.) You are considered a participant if you have one of my badges on your blog & a relevant blog post.
Join us!
Here are the badges and links for you to copy & add to your blog…size 'em to fir your blog.
Badge 1 above: https://marlameridith.com/wp-content/uploads/2013/08/Project-LunchBox-September.jpg
Badge 2: https://marlameridith.com/wp-content/uploads/2013/08/Project-LunchBox-September1.jpg
Some LunchBox Photos & Links to Inspire!
Project LunchBox 30 Days of Healthy Meals
Step by Step: How to Pack a LunchBox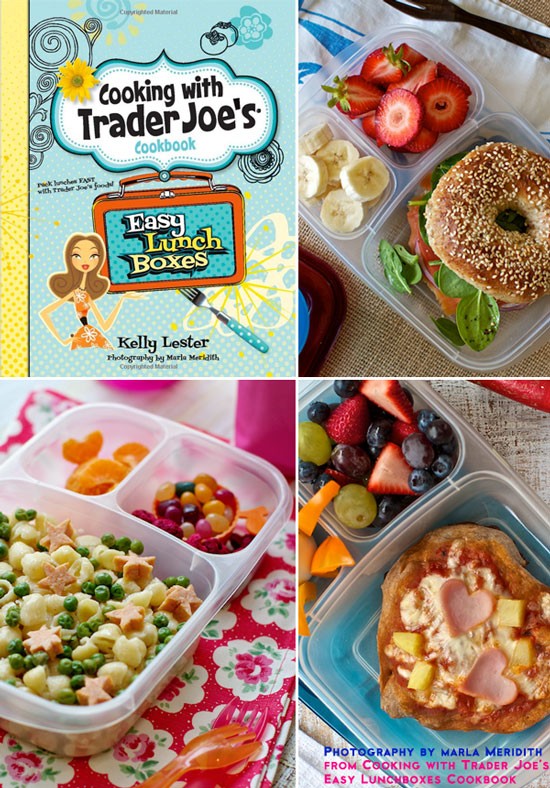 Cooking with Trader Joe's Easy LunchBoxes Cookbook
100 Healthy, Delicious, Easy LunchBox Snacks
'); // ]]>
~ Marla Meridith