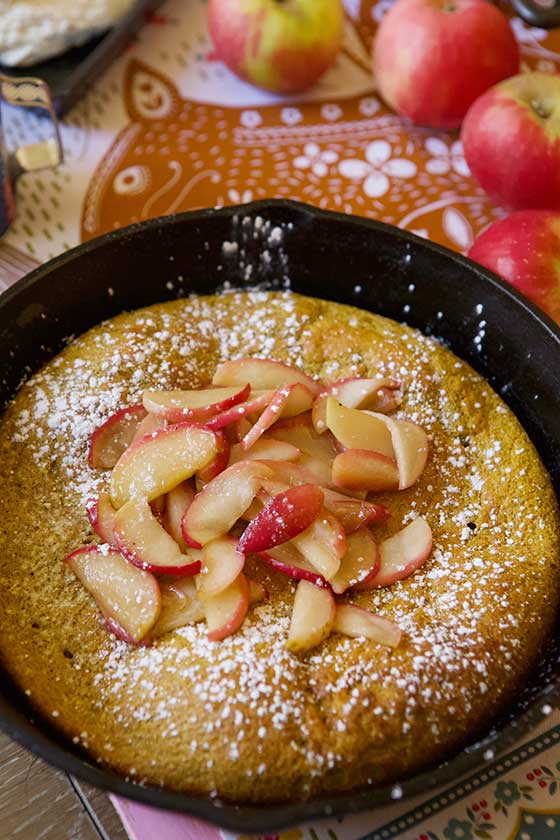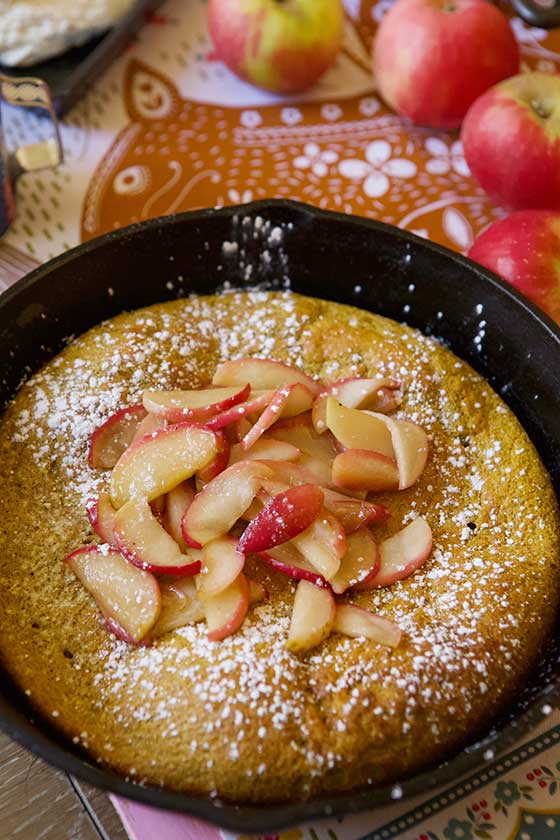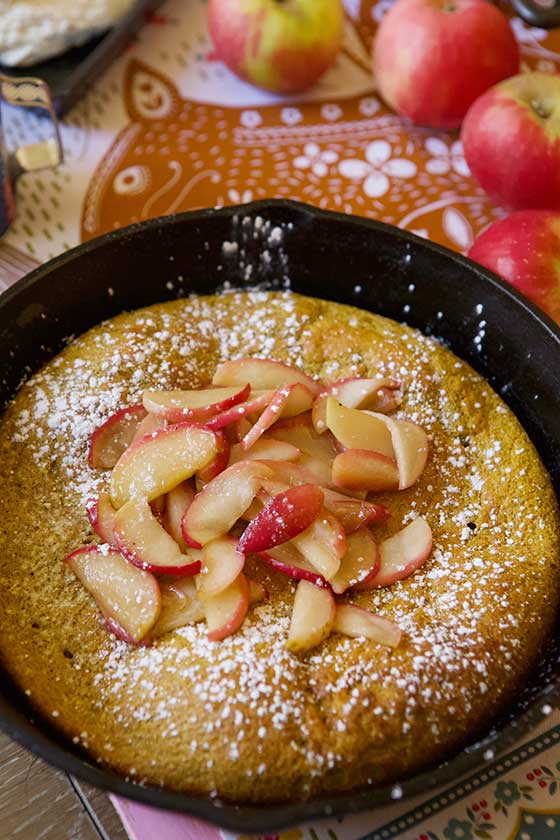 Recipe: Pumpkin Dutch Baby with Caramelized Apples
By Marla Meridith Breakfast & Brunch, Christmas, Coconut Milk, Courses, Dairy Free, Diets, Fall, Halloween, Main Ingredients, Maple Syrup, Occasions, Thanksgiving, Vegetarian, Winter American Baking, Blending
October 10, 2019
Taste the beautiful days of fall with this Cast Iron Skillet Pumpkin Dutch Baby with Caramelized Apples recipe. Delicious and so easy to prepare! Great for breakfast, brunch or any time at all!
Prep: 5 mins
Cook: 20 mins
Yields: 4 servings
Ingredients
for the Dutch Baby
1/4 cup whole wheat pastry flour
1/2 cup unsweetened coconut milk
1/4 cup unsweetened pumpkin purée
5 tbsp unsalted butter, divided
for the caramelized apples
2-3 pink lady honey crisp apples, cut into thin wedges
Directions
1Preheat the oven to 425° with the rack in the middle.
2Place a 10" cast-iron skillet on the rack and heat while you make the batter.
3Make the Dutch Baby: Combine the eggs, flour, coconut milk, pumpkin purée, brown sugar, vanilla, pumpkin spice, and salt in a blender. Blend until smooth.
4Remove the skillet from the oven and add 2 tablespoons butter, swirl to melt it.
5Pour the batter in the hot pan and put the skillet back in the oven. Bake until the pancake is puffy and golden brown, 21 to 24 minutes.
6While the pancake is baking, make the Caramelized Apples: Heat a medium cast iron skillet over medium heat. Melt the remaining 3 tablespoons butter, add the maple syrup, vanilla, salt and cinnamon. Add the apples and cook, stirring occasionally, until they soften, become fragrant and the sauce thickens. 10 to 12 minutes. Remove from heat but keep warm.
7Serve the Dutch baby with powdered sugar, homemade whipped cream, topped with the apples and any juices left in the skillet.