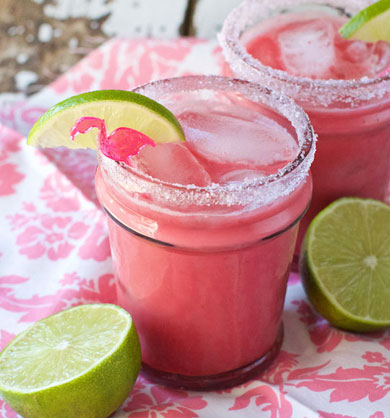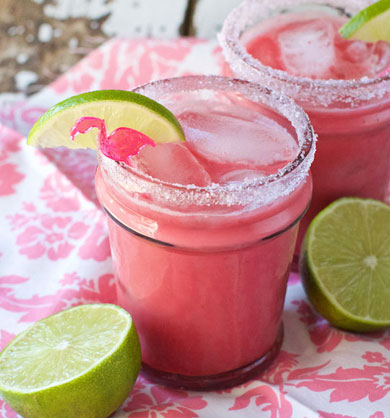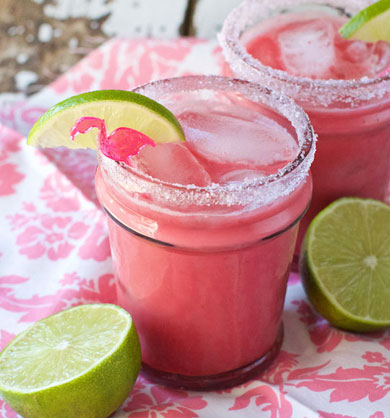 Recipe: Raspberry Coconut Margarita
By Marla Meridith 4th of July, Alcohol, Berries, Cinco de mayo, Cocktails, Courses, Entertaining, Main Ingredients, Occasions, Summer, Tequila Mexican Boiling, Shaken
August 20, 2017
These Raspberry Coconut Margaritas are cool, creamy & completely delicious! Perfect for steamy summer days!
Prep: 5 mins
Cook: 5 mins
Directions
1Bring the raspberries and water to a boil in a saucepan. Turn off the heat, mash the berries against the side of the pot. Place a fine mesh sieve over a bowl, pour the berries into the sieve. Let liquid pour through, mashing the berries into the sieve to get all the liquid out. Discard or eat the pulpy bits.
2Whisk in the coconut, agave and lime. Let the mixture cool.
3Rim the glasses with pink sprinkles: Run a lime wedge around the rim of a 8 ounce glass. Dip the rim of the glass in a bowl of sprinkles. Fill the glasses 1/2 way with ice.
4Fill a cocktail shaker with ice. Pour in 4 ounces of the raspberry juice, tequila and triple sec. Shake well. Pour into the glasses. Serve with a wedge of lime. Yields 2 cups of raspberry, coconut juice. Enough for 8 margaritas.