Have you ever had baked oatmeal? If yes then you are part of a club. A very important club of exclusive folks who know how addictive this is. I cannot believe this is breakfast because really it could replace dessert for me. The saffron puts an elegant twist on a classic bowl of oats. Ready to bake your breakfast? Let's check out just how simple this is to prepare.
I know control yourself…

Be sure to bake up a big batch of this oatmeal as you can enjoy it for quite a few days. Simply warm some up before serving or enjoy chilled straight out of the fridge.
I always have some protein with mine…Greek yogurt or a side of eggs. You could also just add some more nuts for energy sustain. Try it in a layered parfait.
Pomegranates are super stars this time of year. Grab a few, slice 'em in half and dig in. Just wear a dark apron when you do this. The red juice gets everywhere!
This squadgy fat little pear makes everything right in the world. I would say as far as pears go this little chubby guy should be a super model. The only thing he is missing is his top hat stem and leaf. That's OK though.
We must all embrace our imperfections.
One of my all time favorite lifestyle brands for the home is Shabby Chic. The owner Rachel Ashwell is a genius when it comes to vintage cottage design. One of her signature designs is a BIG puffy white couch called the squishy.
This pear would take a seat on that.
Let's take a moment to pause and look at how it's yellowy green hue transforms into a pinky red.
Taking the time to notice life's subtleties makes for brighter days…
After you bake your oatmeal be sure to cover the top with all kinds of seasonal fruits, dried cranberries, blueberries, goji berries and such.
Add a splash of cream or milk.
Toasted nuts are always in favor over here too. Hazelnuts, almonds, pistachios, peanuts, pecans…
I must warn you ~ your house will smell amazing if you make this oatmeal. This breakfast is perfect for holiday brunch parties, showers and what not.
All of your guests will be satisfied as it is gluten free, dairy free, vegan and there are no refined sugars.
What is your favorite breakfast? Have you ever made baked oatmeal? What goodies do you like to put in yours?
Giveaway Details
This giveaway is now closed. Thanks for all of your entries. Congrats to my two winners Christine #114 and Jessica #78.
Two winners for this giveaway – EACH winner would get 4 FREE vouchers for product (2 for Almond Fresh and 2 for Ryza Rice Milk) + a $50 Whole Foods gift card
Earth's Own Ryza rice milk and Almond Fresh milk are great healthy options to add to all kinds of vegan recipes. At MarlaMeridith.com we are not dairy free, but we always love the opportunity to use all kinds of nutrient rich ingredients. A little about Ryza: The only rice beverage to bear the Whole Grains Council seal, Ryza is also the only rice milk to contain 16 grams of whole grains per one cup serving. Ryza contains no added oils, making it half the fat of the leading competitor.
Almond Fresh milk: Made with nutrient-rich real California almonds, Almond Fresh offers a unique "real nutty taste" that is exclusive to the beverage. In 2011, it received the "Best New Product" award in the Dairy Alternative category as voted by more than 25,000 consumers and featured in Canadian Living magazine.
Neat huh!
How to Enter
Leave some comments….tell me what your favorite kind of oatmeal is. You have until Sunday, October 23rd, 12 midnight PST to enter this giveaway. One winner will be chosen via random.org and will have 3 days to respond or a new winner will be selected. Open to residents of the USA.
To earn additional entries, leave a separate comment for each of the steps listed below. If you don't leave separate comments for each step, we will not be able to include them.
Tell me about your favorite oatmeal recipe or about your favorite breakfast.
Add the MarlaMeridith.com badge into your sidebar or somewhere on your blog
Tweet this giveaway, being sure to include my Twitter handle (@MarlaMeridith). Here's a sample tweet you could use or make up your own: For 2 winners $50 @WholeFoods gift cards + FREE #vegan Almond & Rice milk vouchers @MarlaMeridith http://su.pr/25BCEN #giveaway PLS RT
Tell me which MarlaMeridith.com Recipe you will make with this vegan milk
Follow @MarlaMeridith on Twitter
Follow Marla Meridith on Pinterest & pin this recipe post
Add a link to this post on your blog.
Add your link (blog URL) to Project Lunch Box add our badge to your blog
Follow @MarlaMeridith on Instagram
*Be sure to stay in touch with MarlaMeridith.com, Almond Fresh and Ryza on Facebook too.
[amd-zlrecipe-recipe:26]
Baked Oatmeal Recipe Links
MarlaMeridith.com Disclosure: We were sent samples of Earth's Own Ryza and Almond Fresh Milks. We enjoyed them so are passing on the great taste to you.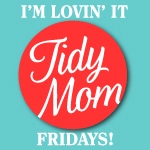 This post has been included in TidyMom's I'm Lovin it Fridays
~ Marla Meridith