Cowgirl Elk Chili with Roasted Sweet Potatoes
In my dreams I am a cowgirl. I ride the mountain range, heat food over an open flame and breath in the fresh air….
If you are not a meat eater then you might want to tune me out for a minute. You could also sub out the elk with any ground meat or poultry of your choice. If you are vegan then you could go with tofu crumbles, beans or a meatless substitute. You would still benefit greatly with all the other ingredients in this chili. I mean really, sweet potatoes and spices all done up cowgirl or cowboy style. Bring it.
The heat driven blackouts in Southern California are not reflective of crispy fall days right now but in other parts of the country there is a hint of fall in the air. That hint makes me very, very happy.
I eat my chili over a big green salad. I love a bit of cool crisp with my warming foods.

Every time we travel to Telluride I prepare two things within the first few days of arrival. A giant pot of homemade applesauce and an even bigger pot of chili. Sometimes I use bison, other times lean ground beef. Turkey or chicken can find their way in the pot too. Just depends on what I find at the market and what I am in the mood for.
For this batch I scored ground elk at the local farmers market. Each and every Friday throughout the summer there is an amazing farmers market with the freshest produce, artisan creations, flowers, meats, cheeses, chocolate, pastry, breads….you name it, it's there. All on one small block. Spectacular if you ask me.
Have you ever had elk meat? It is lean and full of flavor. I would say it is a cross between bison and ground beef. I got mine from the awesome High Wire Ranch.
I added ground cinnamon to this recipe. It ponies up nicely to the cumin and chili powder.
One of my other favorite vendors at the market is James Ranch. The 400 acre ranch is located 10 miles outside of Durango, CO. Here's what they say "….irrigated pastures, crystal clear flowing water, 100% grass fed and finished beef cattle, grazing Jersey milk cows, a spruce tree nursery, an organic vegetable and flower garden, and busy families who utilize organic growing practices in the day-to-day operation of the ranch and their enterprises." Idealic huh!
It is my plan to visit there someday, the ranch is about 2 hours from where we stay, perhaps next summer. I was too busy hiking & mushroom hunting this visit.
We enjoyed plenty of their artisan, raw milk sharp cheddar cheese. Blissful. I had the opportunity to meet the owners Kay and Dave James at Mountain Film this past May. A lovely couple if you ask me. They take great pride in their family, food and sustainable farming practices.

This recipe is featured on the Chef Marcus Samuelsson blog too…..
What is your favorite chili recipe?
Cowgirl Elk Chili with Roasted Sweet Potatoes
Ingredients
1 large Sweet Potato, cut into 1/2 inch pieces
a few dashes of ground Cinnamon + 1/2 teaspoon
fine Sea Salt
Olive Oil
1 pound ground Elk (you can also use chopped meat or bison)
1 Leek, cut into small pieces
1 Zucchini, cut into small pieces
2 cloves chopped Garlic
26 ounces strained or chopped canned Tomatoes
1 cup Vegetable Broth
1 tablespoon Lemon Juice
1 tablespoon Chili Powder
1 teaspoon Cumin
a handful of fresh chopped Cilantro leaves
Salt and Pepper to taste
Method
Preheat the oven to 425 degrees F with the rack in the middle. Toss sweet potato with a few dashes of cinnamon, sea salt and a splash of olive oil until they glisten slightly. Place the sweet potatoes in a single layer on a sheet pan. Bake about 30-35 minutes until soft and slightly browned. Toss once during baking.
In a large sauce pan add leeks, zucchini, garlic and a splash of olive oil. Soften and slightly brown over medium high heat for a few minutes. Brown elk in the same pan with the mixture for about 5 minutes, breaking up any large pieces with the side of a spoon.
Add tomatoes, broth, chili powder, cumin,1/2 teaspoon cinnamon and lemon juice to the pan. Bring to a boil and let simmer for about 25 minutes. Add sweet potatoes. Adjust seasoning according to taste. Add fresh cilantro at the end.
Serve with grated cheese, a dollop of sour cream or thick greek yogurt. Garnish with more fresh cilantro.
https://marlameridith.com/elk-chili-with-roasted-sweet-potatoes-recipe/
Copyright © 2015 Marla Meridith Enterprises, LLC - All Rights Reserved.
Relevant Recipe Links
Lots of links for you today. I tweeted for you guys to send me your favorites and boy did you send me great recipes!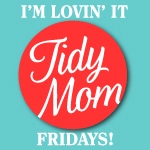 This post has been included in TidyMom's I'm Lovin it Fridays