[donotprint]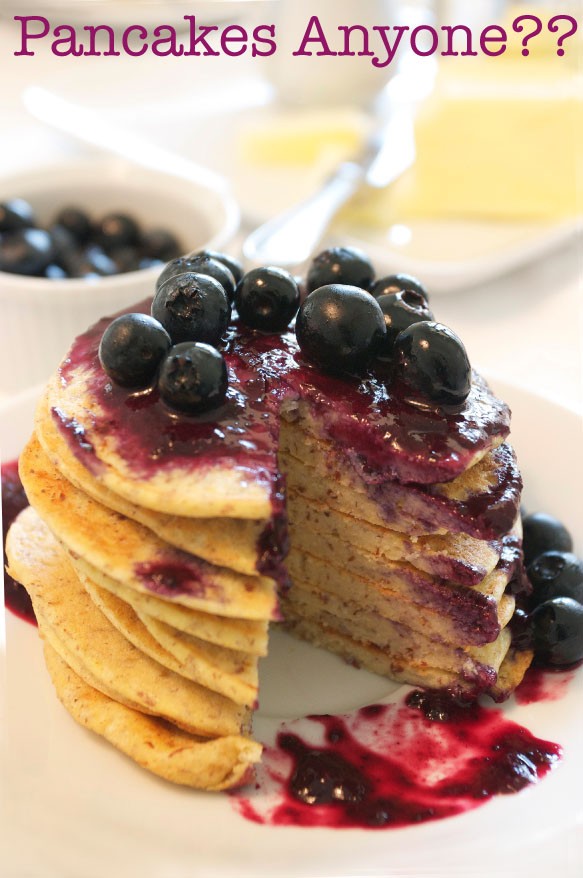 I enjoy experimenting with high energy whole grains and flours.  Things that make me & the family feel great.  I LOVE passing these recipes on to you guys. For breakfast each day I usually enjoy my Stuffed French Toast. Here I have a go at a healthy pancake stack. In these I use coconut flour and corn flour instead of traditional whole wheat.  You will not miss the gluten in these fluffy pancakes. The corn and coconut flavor is wonderful. The blueberry sauce adds a nice sweet fruit component. We were all very happy with the results.
These days I am especially intrigued by the gluten free choices out there.  I am trying to understand the link between insulin levels and gluten.  I have not ever been diagnosed with gluten intolerance, but I am very sensitive to refined flours and sugar.  Sounds like gluten might impact insulin levels in a not so fab way. Recently I posted a few Gluten Free cookie recipes: Chocolate Chip Cookies, Maple Peanut Butter Cookies.  I am running with the GF thing and having a grand old time with it.
Do you guys know anything about how gluten might affect insulin levels?  How do you feel when you eat it?  How do you feel after you eat heavy carb based meals?
Did I mention my kids are done with school?  Can you say veeeerrryyyyy hard to focus around here for more than a minute at a time.  I type about a word every few minutes as I am constantly diverted from my mission.
The good thing about having them home: GREAT little recipe testers.  They are brutally honest!
Please don't be discouraged when trying to find these alternative flours.  I have them all listed at my Amazon Store should you wish to purchase them there.
[/donotprint]
Coconut Corn Flour Pancakes with Blueberry Sauce – Gluten Free
Makes about 4 servings of pancakes and sauce
NOTES:
Adjust sweetness of your batter & sauce according to taste.
If you don't have blueberries you can try strawberries, blackberries or raspberries instead for your sauce.
You can add more milk as needed this batter tends to thicken up quickly.  The coconut flour is filled with fiber & it loves to soak up water.
INGREDIENTS
METHOD
Sauce: Add blueberries and lemon juice to a sauce pan on medium heat. Heat up mixture and stir frequently, this will help the blueberries "burst." Once mixture is saucy, simmer about 5 minutes until liquids are reduced and sauce thickens a bit. Puree in food processor or blender. Sweeten to taste. Thin out with water as needed. Set aside.
Pancakes: Whisk to combine flours, flaxseed, salt and baking powder in a medium bowl. Add eggs and milk. Sweeten batter to taste with stevia drops. Spray or lightly butter a medium sized skillet or griddle over medium high heat. Add spoon fulls of batter to pan.  Make pancakes as big as you want them. Mine were about 3 inches each. Let pancakes brown lightly on each side. Serve with blueberry sauce, see below.
Top your pancake stack with blueberry sauce and some fresh blueberries if desired. Add a dollop of stevia sweetened Greek Yogurt "whipped cream."
[print_link]
Pancake Recipe Links
~ Marla Meridith