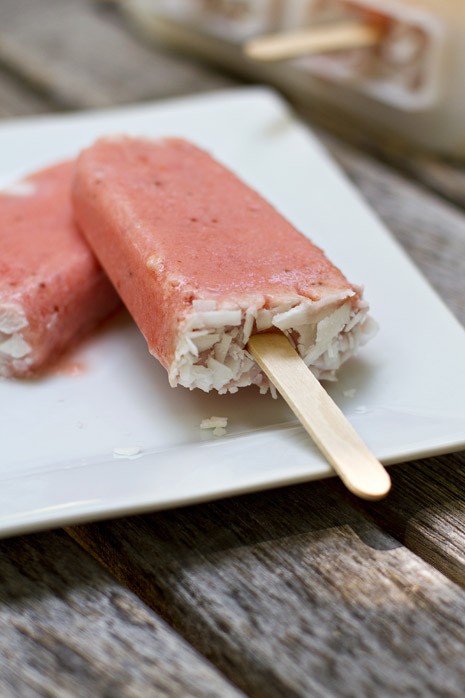 With summer here we all like to relax a little more and spend less time in the kitchen. American Express asked me what dessert I could make with 6 or less ingredients. The first thing that came to mind were sweet & fruity popsicles. Both kids and adults love popsicles. They are a tasty little lick of summer frozen on a stick.
Strawberries and peaches are amazing out of hand. They taste even better with a splash of coconut milk.

The fresh summer fruit in the markets is so beautiful. My kids can't wait to bite into juicy peaches, strawberries, apricots, cherries, nectarines, watermelon……the list is endless. That photo of peaches was taken with my iPhone at Trader Joe's. I am tickled at how sharp it is.
It is amazing how the simplest of treats can be the most thrilling. Frozen fruit on a stick. Life's simplest pleasures.
Sorry about the sorta melted popsicles. Time was a bit tight on this photo shoot and the sun was shining bright. Perfection is in the imperfect. That is a motto I need to live with more. Keeps me happier and brighter. Perfection is boring anyway…..life happens in the unexpected details.
Slightly melted fruit pops are imperfect but perfect at the same time. They are supposed to melt after all.
Think smoothie in pop form. Add a little bit of coconut flake and you get a little fancy.
What is your favorite popsicle recipe or frozen treat?
[amd-zlrecipe-recipe:81]
Fruity Popsicle Links
Giveaway Details
This giveaway is now over. Thanks for all of your entries. 
I have a $600 American Express gift card for one reader. But there is something you are gonna need to do to get your hands on it…..
About the Card
I am excited to celebrate the launch of the new American Express Blue Cash® Preferred and Everyday cards. I have partnered with American Express to help consumers realize the potential of meals that can be made with 6 ingredients or less. The new Blue Cash® Cards provide a simple way for shoppers to put cash back in their pockets as they shop for every day necessities – like groceries for your family. Neato!
At 6% cash back, Blue Cash® Preferred card offers consumers the most cash back at the grocery store available in the market today. With these new Blue Cash® Cards, there are no spend minimums, cash back caps, ongoing enrollments or rotating categories of cash back benefits. Remember to use credit cards responsibly.
To learn more about the Blue Cash® Preferred and Blue Cash® Everyday cards, visit www.americanexpress.com/bluecashcards.
How to Enter
Please submit any dessert recipes you have that include 6 ingredients or less. You can leave up to (4) recipes between now and Friday July 22th, 12 midnight PST. Paste them in the comments field or add them to the link up below. On Wednesday July 27th I will announce the winner and post that recipe here at MarlaMeridith.com. Exciting huh! You could become $600 richer simply by sharing your favorite family recipes. You don't even need to cook up something new….any recipes will qualify.
Winner will be chosen via random.org and will have 3 days to respond or a new winner will be selected. Open to residents of the USA.
To earn additional entries (you can only do so if you have entered a recipe), leave a separate comment for each of the steps listed below. If you don't leave separate comments for each step, we will not be able to include them.
Submit your favorite DESSERT recipe that features 6 ingredients or less. You MUST cut and paste the entire recipe into the comment form or add them to the link up below. If you have a blog, please also provide a link to the post.
You may submit 4 recipes – leave each recipe in a separate comment.
Tweet this giveaway, being sure to include my Twitter handle (@MarlaMeridith). Here's a sample tweet you could use:  Share Dessert recipes with 6 ingredients or less @MarlaMeridith for chance to win $600 @americanexpress gift card http://su.pr/2jGMcN
Follow @MarlaMeridith on Twitter
Follow @americanexpress on Twitter
Add the MarlaMeridith.com badge into your sidebar or somewhere on your blog
Stumble this post & follow me @familyfresh on StumbleUpon
Add a link to this post on your blog.
Follow @MarlaMeridith on Instagram
*You can stay in touch withMarlaMeridith.com or American Express on Facebook too.

'); // ]]>

More Blue Card Bloggers 
MarlaMeridith.com disclosure: I was contacted by the folks at American Express to run this promotion. I was compensated for my time to create 3 posts in this series and to help promote the Blue Cash Card personal credit cards. All credit cards should be used responsibly by the holder.
~ Marla Meridith