Two of my most *happy* things in that photo. My sweet little guy and giant orange pumpkins! That bright squash is the gateway food into everything that symbolizes my two favorite seasons, fall and winter. Gosh, I can't believe this photo was taken back in fall 2009. The time is moving quickly…..
It is ridiculous how much I LOVE pumpkin. From here until the weather gets hot again you will see it featured here every way I possibly can. Are you OK with that? I really hope so. From what I gather around the web you guys are obsessed with it too. That is why I am giving you the go ahead to link to your favorite recipes in this Happy Post.
Here are some of our favorite recipes and in the next few months I will be creating many, many more…..

I love that my daughter is missing her two front teeth in that photo above. Ahhhhh, the memories. This year she has those teeth but is missing the ones on either side…..
First up let's talk about muffins. Everyone loves muffins right? They are happy food over here and even more so with pumpkin and tiny chocolate sprinkles. My Pumpkin Chocolate Oat Muffins would be a great surprise in the lunch box.
You guys know how addicted I am to my Stuffed French Toast creations? You gotta fire up your skillet to try this Pumpkin Ricotta Stuffed French Toast recipe. You can thank me later.
Peanut Butter Banana Coffee Cake…..moist, full of flavor, sweet and fabulous. I don't think I need to go into too much detail here. The name says it all. I also make french toast with this. Remember my Breakfast Cookie French Toast? I do the same with cake.
You might like these Cranberry Pumpkin Ricotta Cookies too…..great for breakfast, snacks, brunch, any time at all. Keep a side of whipped cream, cream cheese or nut butter handy as a dip.
Even though this recipe is called Sweet Potato Crisp, I want you to try it with pumpkin purée instead. Don't think about it. Just do it.
Here is a savory for you. Don't snicker at the vintage photography throughout this post (well giggle if you must)
The tilt below is pretty hilarious. Don't do that in your food photography, OK?! This has actually been one of the most loved recipes around here. Pumpkin Coconut Curry with Chicken Meatballs.
I must draw your attention again to my recent Pumpkin Pie Popsicles. If you want something a little more warming you can try Pumpkin Vanilla Applesauce. The applesauce is awesome on it's own or used as an ingredient in baked goods.
These Chocolate Pumpkin Pancakes could charm the pants of the most finicky of eaters. The shapes are way easier to make than you might think. You simple mix the two batters and use a squeeze bottle to outline and then fill them in.
Link up your favorite pumpkin recipes that made you *happy* from the past few months or years. Be sure to link back to this post or MarlaMeridith.com  you can also add my Happy Post Badge to each of your submitted post(s), the code for that is on my my badges page. Let's spread the HAPPY. I will share a re-cap of your favorite links sometime soon.
Contribute as many posts as you like. Pumpkin inspiration beyond the recipes are cool to link up too. Maybe you have a post about travel, a pumpkin patch, got a groovy Halloween theme or maybe fall themed crafts that tie in? Do share….as always I encourage you to think outside the box.
So let's hear it…what are your favorite ways to use pumpkin?! Check out my recipes page for more ideas.
Link up your Pumpkin Recipes Here:



Relevant Recipe Links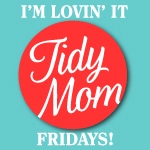 This post has been included in TidyMom's I'm Lovin it Fridays
~ Marla Meridith