Change up your morning oatmeal, toast or cereal with these Quinoa Breakfast Bowls. This is a nourishing, delicious breakfast recipe that will become a regular habit. A great habit at that! Make your morning as easy as possible. This is a busy time of year with kids back in school & the sun is setting earlier.
We need to make the most of our days. Set your alarm to your favorite song (way better than a beeping sound), have your coffee start dripping on a timer and have this brekkie waiting in your fridge so it's ready when you are. Cook up this quinoa the night before while you prepare dinner. No need to be cooking twice when it can all be done at once!
Quinoa is a healthy, gluten free option for first thing in the morning. It's no longer just for savory meals. This quinoa can be served warm or chilled, top with your most favorite juicy fruits & toasted nuts. Rise 'n shine beauties!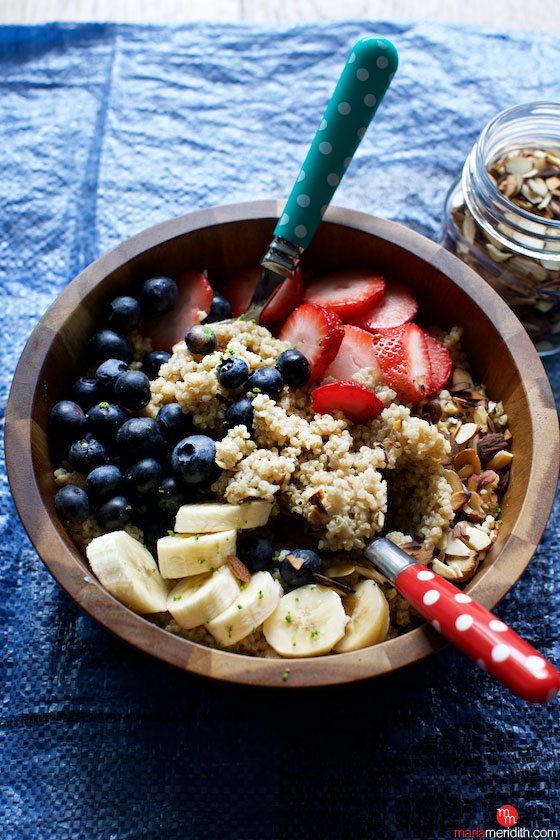 Get a few fruit servings in at one go! We always love antioxidant rich sweet-tart berries. This breakfast is filling, but won't leave you feeling too full.
Click HERE for recipe details.
Here's more delicious quinoa breakfasts to try!
Raspberry Lovers Quinoa Breakfast
Strawberries 'n Cream Quinoa Porridge
Maple Banana Toasted Almond Quinoa
SaveSave
SaveSave
SaveSave
SaveSave
SaveSave
SaveSave
SaveSave
~ Marla Meridith