I know the story well: I packed my kids a delicious lunchbox and it came back home untouched! We fear and dread this moment. Then we hear that they ate their friends PB&J instead of what we packed. It's time to change things up when it comes to school lunch!
With Back to School around the corner it's time to think about what to pack in those lunchboxes to have meal time success. It's a bit daunting, but at the same time it's best to be well prepared. Back to school can be overwhelming but it doesn't have to be. The more helpful ideas you have at the ready the better you (and your kiddos) will feel during those first few weeks. If you and your kids get into great healthy, habits early, then then more likely you are to keep them throughout the year. These 18 Lunchbox Meals Your Kids Will Love to Eat! are some of my kids favorites and readers favorites too as gathered from my Pinterest boards.
If you have bigger kids, then these meals can be prepared by them. If you have little ones, they might love to be your kitchen side kick. Wee ones can help you pack their lunchbox and they will thrill more in eating lunch knowing that they helped you put it together.
My kids gobble up this Pesto Tortellini Salad..best thing is it tastes great cold or at room temperature.
DIY Lunchables with Salami and Cheese: Don't buy those prepackaged lunches when you can make your own with way higher quality ingredients.
We love these roll-poly mozzarella balls and bet your kids will to in this Caprese Pasta Salad.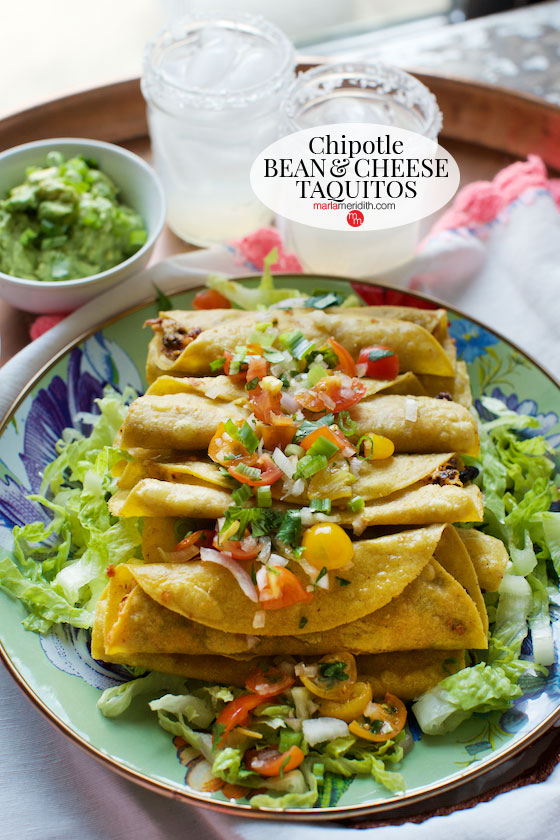 Chipotle Black Bean and Cheese Taquitos: My kids always order these at Mexican restaurants, so what better than to make them at home to put them in the lunchbox!
For those on a gluten free diet, or if you just love quinoa try this Quinoa and Veggies Lunchbox Power Salad.
Every bite of this Spring Pasta Salad with Asparagus, Bacon and Feta will swoon. Chop all ingredients to the same size for maximum flavor!
This Quinoa Salad with Chicken, Chickpeas, Kale and Bacon is protein packed, gluten free and so delicious!
This Summer Pasta Salad is healthy and jam packed with lots of fresh avocado.
If you are anything like me, then you love to grill! This Grilled Greek Chicken Pasta Salad is a protein packed, full flavored lunch.
This Cheesy Green Rice & Chicken Casserole is a favorite of my kids and proves that kiddos can love green food!
I was shocked when my kids took a liking to marinated artichokes and olives super young. The passion has only increased through the years and they love this Mediterranean Salad Platter. Place each of these ingredients in a separate lunchbox compartment and don't forget to pack the pita chips!
This Asian Chicken Salad is restaurant worthy and even better in the lunchbox. Put the dressing on the side so the greens stay crispy.
We gobble up these Lit'l Smokies Pretzel Wrapped Hot Dogs no matter what the occasion…even tastier when at school!
All kids (and adults!) love mac and cheese. This recipe has sliced mini hot dogs in it too! Lit'l Smokies Grilled Hot Dog Mac 'n Cheese
One-Pot Meatballs and Veggie Tortellini Soup keep this delish soup hot in a thermal container.
Rustic Tomato Soup with Grilled Cheese Croutons: Serve the soup in a Thermos and the croutons in a separate container. Watch the VIDEO too!
Lamb Kofta Tacos: Serve each part in separate containers and your kiddos can put their own tacos together at school!
Kale, Bacon and Cheddar Quesadillas: Get those healthy greens in alongside that bacon and cheese.
SaveSave
SaveSave
SaveSave
SaveSave
SaveSave
SaveSave
SaveSave
SaveSave
SaveSave
SaveSave
SaveSave
SaveSave
SaveSave
SaveSave
SaveSave
SaveSaveSaveSave
SaveSave
SaveSave
SaveSave
SaveSave
SaveSave
SaveSave
SaveSave
SaveSave
SaveSave
~ Marla Meridith